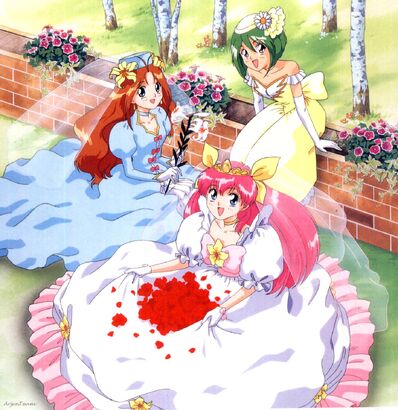 For detailed information about this series, visit the Wedding Peach Wiki.
Summary
Wedding Peach is a manga series created by Nao Yazawa and Sukehiro Tomita in 1994. Part of the Magical Girl genre, it has themes of wedding and marriage. It follows the story of Momoko Hanasaki, an ordinary middle schooler who finds out she's the legendary angel, Wedding Peach that must keep demons from obtaining the Sacred Somethings and restore peace to the Angel World.
Power of the Verse
The verse lacks in destructive feats that, at most, cap out around Large Building level. Some characters have a decent amount of hax such as spatial manipulation, gravity manipulation, holy manipulation, and strong light and darkness manipualtion. Suprisingly enough, the verse displays causal Speed of Light reactions and attacks due to many instances of emiting and reflecting light and darkness.
Supporters/Opponents/Neutral
Supporters
Opponents
Neutral
Characters
Love Angels
Demons
Higher Angels and Demons
Aphrodite
Celeste
Reindevila
Uragano
Community content is available under
CC-BY-SA
unless otherwise noted.