Introduction
In My Hero Academia, Minoru Mineta dodge a whip attack from Midnight. I will be calculating his speed.
Calculation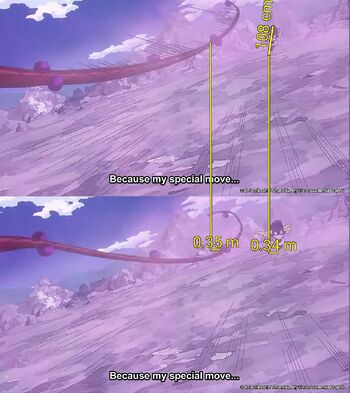 In order to find his speed, we just need to compare the distance that Mineta moved and the distance the whip moved in the obe frame.
Mineta's Height = 108 cm
Mineta's Movement = 0.34 m
Whip's Movement = 0.35 m
The tip of a whip travels at twice the speed of sound (Mach 2, 686 m/s). However, for this feat we are using the loop of the whip, which travels twice as slower as the tip (Mach 1, 343 m/s). This is the part of the whip that creates that characteristic sound, which we can hear in Mineta's scene.
Timeframe = 0.35/343 = 0.0010204081632653 seconds
Speed = 0.34/0.0010204081632653 = 333.20 m/s
Final Tally
Mineta's Speed = 333.20 m/s, Mach 0.97 (Transonic)
The distance he moved was very short and to the sideways, so this will be classified as a combat speed feat.