Introduction and Feat
In Marvel Comics, Black Panther and Hawkeye are able to dodge a glider thrown at them by the Hulk in a single microsecond. How fast is this really?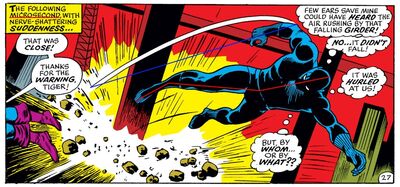 -
-
-
-
-
The Calculation
To find speed we need distance and time. The panel already directly tells as the timeframe, that of 1 Microsecond. A microsecond is 1 millionth of a second, or 0.000001 seconds. Now we find distance. The distance of the dodge is 487 pixels. Black Panther himself is 429.21 pixels total. According to this profile, Black Panther is 6 feet tall, or 182.88 cm. We divide this amount by his pixel measurement to find out that each pixel is 0.426 cm. This indicates that the distance covered is 207.462 cm, or 2.075 meters. So now we can find a result.
2.075/0.000001 = 2,075,000 meters per second
Final Tally
Black Panther Dodge: 2075000 m/s, Mach 6049.563, Massively Hypersonic+