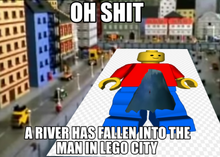 Welcome to my profile, now here's a dead meme.
My Favorite Pages
Sonic the Hedgehog (Game Character)
Sonic the Hedgehog (The Universe)
Pages I've Created
Black Hole (Battle for Dream Island)
Favorite Verses
Gravity Falls: One of the best cartoons ever, in my opinion. I absolutely love the characters, the plot, and the show itself. It's so good, that the villain is actually somewhat likable.
Mario Bros: Besides it being one of the best video game franchises of all time, I grew up playing Mario. For the characters, my favorites are Luigi and Bowser. I like Mario as well, but he's pretty lacking in the character department.
Sonic the Hedgehog (The Universe): While I was somewhat familiar with the verse early on, I have started to play the games recently. I like most of the characters, mostly Sonic, and I like all of the 2D games along with the Sonic Adventure games. I'm not a fan of the most recent 3D games though.
Community content is available under
CC-BY-SA
unless otherwise noted.