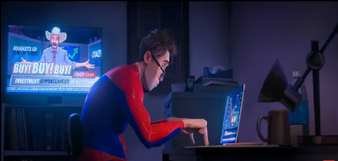 Hi I'm KingEzran. A member here and an administrator of the Into the Spider-Verse wiki. Hey, just something for people that wanna PM me, I'm KingEz on fanfiction.net, because apparently a lot of people use that for PMs when they're in this fandom. I don't check my PMs regularly, so please notify me on my message wall if you PMed me. Don't mind this picture. It's me represented by Peter B. Parker on vs battles. Definitely not me represented by Peter B. Parker making dicey money choices (That's exactly what it is). Of course, not.
Okay, let's do this one last time. My name is Ezran (not really) and I want to be a Content Mod or Discussion Mod, but mostly Content Mod (Although, I wouldn't mind if I was chosen to be an Admin😊). For the last 1.5 years, I thought I was the one and only Fandom account. I'm pretty sure you know the rest. Most of my edits are minor, but I believe that minor edits make a big difference in the end.
Verses You'll mainly catch me on:
Like...Anything.
Verses I know of pretty well (in no particular order):
Marvel (Each letter has a different link because there are quite a lot of verses that pertain to marvel.)
DC (DC Comics, DC Extended Universe, DC Animated Universe, DC Animated Movies (Universe), Teen Titans, Young Justice, and Arrowverse (CW))
Pages I created
(Don't forget that I calc stuff too)
Pages I plan on making in the future
Amaya (The Dragon Prince) - (Currently in The Sandbox)
Rayla (The Dragon Prince)
Pages for Moriking
Pages for Kaiju No. 8
Calcs I plan on making in the future
Chargin' Chuck AP (Super Mario Oddysey)
| | | |
| --- | --- | --- |
| " | Please don't invest in a Spidey-themed restaurant...for all of us... | " |
| | ~ KingEzran | |
Community content is available under
CC-BY-SA
unless otherwise noted.