ALL THE HYPE FOR OUR GOD AND SAVIOR:

Quotable quotes:
"It's only when a mosquito lands on your testicles that you realize that there is always a way to solve problems without using violence." - Confucius
"I'll walk you home, simply because I'm such a nice person, not a horrible worm-rapist." - Emiya Shirou
"Are you into gays senpai?"
"I'm straighter than the pole your mother dances on." - Kousaka Kyousuke
"...martial arts is... moving in a way that's kinda cool... right?" - Saitama
"I was thinking about calling you a monster, but I didn't want to insult the cards." - Yugi Mutou
"You dumbass! Nitwit! Hachiman!" - Hikigaya Komachi
"Everything not saved will be lost." - Nintendo 'Quit Screen' message
"Please urinate with precision and elegance." - Chinese toilet message
"I only wanna die alive..." - Ariana Grande
"I've also masturbated to you before." - Himeko Inaba
"..." - Red (Pokemon)
My favorite pages
My favorite Male Characters:
Rudeus Greyrat
Goblin Slayer
Thor
Satou Kazuma
Kurogane Ikki
Hikigaya Hachiman
Namikaze Minato
Deku
Emiya Shirou (Miyu's brother)
ISKANDAR
Lord Knight Seyren Windsor (Ragnarok Online)
My favorite Female Character:
Gundou Misuzu
Chitanda Eru
Tsurumi Rumi
Rory Mercury
Tabitha (ZnT)
Yuufa (Ragnarok the Animation)
Saber (FSN)
Shielder
High Wizard Kathryn Keyron (Ragnarok Online)
Blue Ram (Re:Zero)
Megumin
Aihara Enju
My favorite Stories:
Mushoku Tensei
Oregairu
My favorite Food:
Any style of cooking for chicken
My favorite Color:
Purple
My Badges: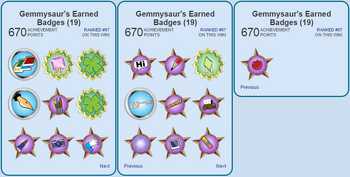 Community content is available under
CC-BY-SA
unless otherwise noted.