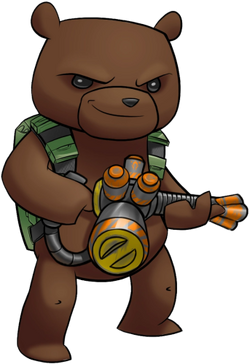 | | | |
| --- | --- | --- |
| " | He never passes up an opportunity to show everyone how brave he is, operative word being "show", the boy requires an audience. Oliver would never solve a problem, big or small, without first considering the absolutely most action-packed way he could do so. | " |
| | ~ Oliver's description | |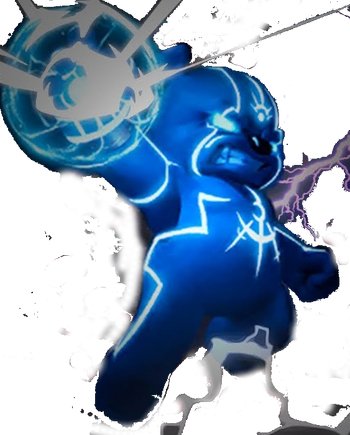 | | | |
| --- | --- | --- |
| " | Feast your eyes upon the Bible's missing chapter, Over Clocked Oliver: THE END OF TIMES. You're about to get a triple scoop of bluebeary flavored PAIN! Open wide, Chauncey! | " |
| | ~ O.C.O. to the Spaceboss | |
Summary
Oliver is a former janitor working under the Battle Bears, an army of bear-themed cyborg space pirates traveling through space to find treasures valuable enough to pay off the debt they owe to the ones who sold them their ship, the Ursa Major. During their travels, the Battle Bears have located a planet only known as the Huggable Planet, but before they could land on it, Huggables floating in space near the planet have breached the Ursa Major in an uncoordinated invasion, with their hugs being able to break all the bones in their body with a disease called Boneitis (despite the Battle Bears having no bones to speak of). Oliver, along with his brother Riggs (while also leaving Wil, his cousin, behind to act the hero), traverse the Ursa Major and shoot down any Huggables they find, setting up their adventures on Huggable Planet later down the line.
Powers and Stats
Tier: 9-B | Unknown, likely High 8-C | 9-B, likely far higher with the Solar Wind Scar
Name: Oliver Bear, Over Clocked Oliver, O.C.O., Anime Cliché Oliver, Dark O.C.O., Oliver
Origin: Battle Bears
Gender: Male
Age: Unknown
Classification: Robot, Battle Bear, janitor (formerly)
Powers and Abilities:
Attack Potency: Wall Level (Wields the Microwave, which blasted a section of a wall clean off) | Unknown, likely Large Building Level (Casually one-shot the Spaceboss, who could destroy the entire Ursa Major with one missile. The Ursa Major is consistently shown to be at least this large. The HIP confirmed that the Overclock system is currently incomplete, and that by the time O.C.O. realizes its true potential, they will be too late to stop him) | Wall Level, likely far higher with the Solar Wind Scar (The Solar Wind Scar is visually identical to the sword Wil used to cut the sun in half, and the description of the Solar Wind Scar implies it is the same blade that did this)
Speed: Average Human travel speed with Speed of Light combat and reaction speeds (Stated that the Laser is a ray with a concentrated source of pure light ) | Subsonic (Can react to and intercept the Spaceboss' missiles) | Average Human travel speed with Speed of Light combat and reaction speeds (Comparable to his main-series self, can react to and fight against characters with light-based attacks such as Wil's Balance Beam)
Lifting Strength: Class K (Can wrestle with the Bearzerker in concept art, who weighs 985 tons)
Striking Strength: Wall Class | Unknown, likely Large Building Class | Wall Class, likely far higher
Durability: Wall Level (Comparable to the Bearzerker, who survived falling from orbit) | Unknown, likely Large Building Level (Tanked 9 of the Spaceboss' missiles and was no worse for wear afterwards) | Wall Level, likely far higher
Stamina: Very high (Fought against waves upon waves of Huggables for at least over a day without any sign of tiring in Battle Bears Zombies)
Range: Varies from extended melee range to hundreds of meters
Standard Equipment: Assault Rifle, a supercharged microwave, his backpack and a pile of sandbags | None | A Salt Rifle, B.E.A.R. Club and the Bearzooka
Optional Equipment: A crossbow, a flamethrower, a jackalope, a Bearzooka, the Swearaphone, a machine gun, Unicorn blood, a magnifying glass & a huggable's corpse, the Pot O' Gold and the Infinite Ammo Shotgun | None | Every piece of equipment he can wield in Battle Bears Gold and Ultimate/Overclock
Can Create/Summon: Every tower from Battle Bears Fortress | None | None
Intelligence: Genius (Despite receiving no combat training due to being a janitor, he is capable of expertly wielding his guns and mastered the way of the katana in the span of a few seconds. He is capable of quickly creating makeshift weapons and strategies mid-combat, such as the Flamethrower which is a can filled with coffee and Huggable dust used as ammunition to simulate actual flames, crafting the Kumakuri with a loose pipe, quickly figuring out that he can use Huggable limbs as a substitute for Bearzooka shells and even weaponizing his own swears to fight against the Huggables, among several other on-the-spot weapons and tactics he creates in the midst of battle. Read and memorized an entire dictionary filled with swears)
Weaknesses: His overconfidence
Note: Oliver doesn't share a key with his Battle Bears Gold appearance because BBG is canonically a simulation. This is shown with the Solar Wind Scar's existence (as it was initially a video game weapon) and the Tutorial, which shows a digital Oliver traversing through the digital world that makes up BBG.
Key: Main Series | Over Clocked Oliver | BBR/G
References
↑

Battle Bears -1: Riggs' Day Off (From NOT Killing Everything)
Others
Notable Victories:
Notable Losses:
Inconclusive Matches: