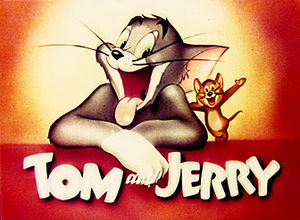 For detailed information about this series, visit the Tom and Jerry Wiki.
Summary
Tom and Jerry is an American animated series of theatrical shorts, television shows and specials, a feature film, home films created by William Hanna and Joseph Barbera for Metro-Goldwyn Mayer that centered on a never-ending rivalry between a cat Tom and a mouse Jerry whose chases and battles often involved slapstick humor. Hanna and Barbera wrote and directed one hundred and fourteen Tom and Jerry cartoons at the MGM cartoon studio in Hollywood, California between 1940 and 1957, when the animation unit was closed. The original series is notable for having won the Academy Award for the Best Short Film seven times, tying it with Walt Disney's Silly Symphonies as the theatrical animated series with the most Oscars. Tom and Jerry has a worldwide audience that consists of children, teenagers and adults, and has also been recognized as one of the most famous and longest-lived rivalries in American cinema. In 2000, TIME named the series one of the greatest television shows of all time. 
Power of the Verse
Tom and Jerry is not an insanely powerful verse, but it's stronger than many think. Jerry can lift around 2,000 pounds with assistance from a canary. Tom and Jerry have tanked an explosion from a white mouse which supposedly had enough firepower to destroy an entire city. Tom and Jerry are excellent users of weaponry, such as swords, cannons, firecrackers, hammers, and more.
Supporters/Opponents/Neutral
Supporters
Opponents
Neutral
Characters
Spin-offs
Tom and Jerry Show (1975)
The Tom and Jerry Comedy Show(1980-82)
Tom and Jerry Kid's show(1991-93)
Tom and Jerry Tales (2006-08)
The Tom and Jerry Show (2014-)
Note: Like many cartoons, Tom and Jerry has no official canon, meaning there's no reason feats from certain cartoons and movies should be excluded.
Community content is available under
CC-BY-SA
unless otherwise noted.