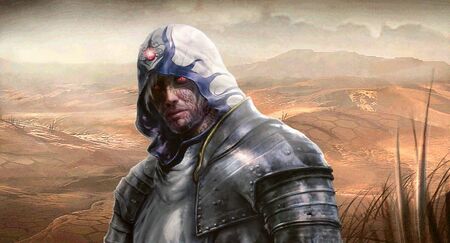 Summary
The Planeswalker is among the most powerful beings in the multiverse. Within the game, they represent identities of the players, using cards that are meant to represent spells used from all over the Magic the Gathering multiverse.
The Planeswalker has also made an appearance as the main character in the video games, primarily the Duels series. These games usually consist of a simple story of The Planeswalker traveling the multiverse defeating gods and planeswalkers alike, aquiring new spells in the process.
Powers and Stats
Tier: 2-A
Name: The Planeswalker
Origin: Magic: The Gathering
Gender: Varies
Age: Varies
Classification: Planeswalker, The Player, Oldwalker, Avatar
Powers and Abilities: Superhuman Physical Characteristics, Magic, Planeswalking (Teleportation/Dimensional Walking), Mastery over all five colors of Mana as well as the colorless mana, Curse Manipulation, Enhanced Senses, Extrasensory Perception, Clairvoyance, Flight, Reality Warping, Spatial Manipulation, Time Manipulation, Time Travel, Creation, Summoning, Matter Manipulation, Energy Manipulation, Energy Projection, Breath Attack, Transmutation, Petrification, Soul Manipulation, Mind Manipulation, Telekinesis, Shapeshifting, Illusion Creation, Telepathy, Memory Manipulation, Perception Manipulation, Sound Manipulation, Death Manipulation, Life Manipulation, Conceptual Manipulation, Power Nullification, Corruption, Madness Manipulation, Morality Manipulation, All Oldwalkers have Immortality (Types 1, 3, 7, 8 and 9) and Non-Corporeal (All planeswalkers forms are a manifestation as their will), Existence Erasure (Can use spells that completely erase the target's body and soul. Exile effects are a level beyond this as powerful resurrection spells that can resurrect those completely erased can't resurrect the Exiled), Resurrection and Self-Resurrection, Necromancy, Poison Manipulation, Acid Manipulation, Probability Manipulation, Possession, Healing, Causality Manipulation (Can react and use instants and counterspells to negate instantaneous effects like Time Warping and Teleportation that would normally be to fast to react too. First Strike allows the user to attack before the enemy), Duplication, Power Bestowal, Power Mimicry, Power Absorption, BFR, Sealing, Void Manipulation, Precognition, Fate Manipulation, Can nullify Regeneration, Magic, Resurrection, Damage, Invulnerability, and Power Nullification, Durability Negation, Resistance Negation, Elemental Manipulation (All types), Magma Manipulation, Heat Manipulation, Chi Manipulation, Weather Manipulation, Holy Manipulation, Cloth Manipulation, Dimensional Storage, Probability Manipulation, Invulnerability, Invisibility, Astral Projection, Pocket Reality Manipulation, Portal Creation, Forcefield Creation, Sleep Manipulation, Dream Manipulation, Blood Manipulation, Explosion Manipulation, Rage Power, Homing Attack, Metal Manipulation, Willpower Manipulation, Empathic Manipulation, Status Effect Inducement (Can "tap" enemies, preventing them from attacking, defending, and using certain abilities), Intangibility, Body Control, Body Puppetry, Statistics Amplification, Damage Boost, Animal Manipulation, Biological Manipulation, Reactive Evolution, Reactive Power Level, Adaptation, Absorption, Transformation, Statistics Reduction, Technology Manipulation, Hacking, Text Manipulation, Information Manipulation, Information Analysis, Psychometry, Data Manipulation, Fear Manipulation, Age Manipulation, Non-Physical Interaction, Weapon Creation, Aura, Pain Manipulation, Law Manipulation, Disease Manipulation, Physics Manipulation, Chaos Manipulation, Attack Reflection, Gravity Manipulation, Vibration Manipulation, Size Manipulation, Chain Manipulation, Paralysis Inducement, Weapon Mastery, Vehicular Mastery, Stealth Mastery, Resistance to Magic, Reality Warping, Mind Manipulation, Memory Manipulation, Existence Erasure (Can travel through the Blind Eternities that can annihilate living beings with a single touch), Causality Manipulation (Spells with the Split Second effect cannot be reacted to and prevents the opponent from doing anything until it resolves), Soul Manipulation, Death Manipulation, Fate Manipulation
Attack Potency: Multiverse level+ (As an Oldwalker, they are comparable to other Pre-Mending planeswalkers like Urza)
Speed: Immeasurable (No slower than Nicol Bolas)
Lifting Strength: Immeasurable
Striking Strength: Multiversal+
Durability: Multiverse level+ (Can take hits from other Planeswalkers within their tier)
Stamina: Limitless. Contains immense amounts of mana that is continuosly increasing due to various artifacts and spells. Can draw more mana from the plane and instantly refills all mana every moment.
Range: Multiversal+
Standard Equipment: Use a wide variety of Artifacts each with their own unique effects
Pithing Needle: The Planeswalker chooses a name. Activated abilities of sources with the chosen name can't be activated.
Grafdigger's Cage: Creatures can no longer enter the battlefield from the graveyard, nullifying resurrection and reincarnation. Players can no longer use the powers of the dead.
Phyrexian Altar: Sacrificing a creature to the altar grants The Planeswalker more mana. They can synergize this with self-replenishing creatures to create endless amounts of mana.
Icy Manipulator: Tap target artifact, creature, or land.
Isochron Scepter: When Isochron Scepter enters the battlefield, The Planeswalker may exile an instant card with converted mana cost 2 or less from your hand. The Planeswalker may copy exiled card. They may cast the copy without paying the mana cost.
Mindslaver: Sacrifice Mindslaver: Gain control of target player during that player's next turn.
Mirage Mirror: Mirage Mirror becomes a copy of target artifact, creature, enchantment, or land until end of turn.
Panharmonicon: If an artifact or creature entering the battlefield causes a triggered ability of a permanent you control to trigger, that ability triggers an additional time.
Ring of Three Wishes: Grants the user a wish of their choice. Can only be used up to three times.
Blightsteel Colossus: Blightsteel Colossus is a powerful creature whose Trample ability causes any excess damage dealt to a creature to be inflicted towards the opponent. Infect makes any damage afflict wounds that cannot be healed as well as a permanent debuff that lowers the targets max durability and attack power equivalent to the damage dealt. Also, if the target takes too much Infect damage, they instantly die. Since Blightsteel Colossus possess 11 power and the Infect triggers at 10, taking a full hit would result in a one hit kill. Blightsteel Colossus is indestructible, rendering it invulnerable to death manipulation and cannot be killed by lethal damage. Should Blightsteel Colossus enter the graveyard, it is instead returned to the summoner to be cast again.
Duplicant: When Duplicant enters the battlefield, The Planeswalker may exile target nontoken creature. As long as a card exiled with Duplicant is a creature card, Duplicant has the power, toughness, and creature types of the last creature card exiled with Duplicant. It's still a Shapeshifter.
Ethersworn Canonist: Each player who has cast a nonartifact spell this turn can't cast additional nonartifact spells.
Painter's Servant: As Painter's Servant enters the battlefield, choose a color. All cards that aren't on the battlefield, spells, and permanents are the chosen color in addition to their other colors.
Platinum Angel: Has a passive effect where The Planeswalker cannot lose and the opponent can't win.
Soul of New Phyrexia: Has trample and can pay mana to make permanents they control indestructible until end of turn. Exile Soul of New Phyrexia from the graveyard: Permanents they control gain indestructible until end of turn.
Spellskite: Change a target of target spell or ability to Spellskite.
Wurmcoil Engine: Artifact Wurm with Deathtouch and Lifelink. When Wurmcoil Engine dies, create a 3/3 colorless Wurm artifact creature token with deathtouch and a 3/3 colorless Wurm artifact creature token with lifelink.
Darksteel Plate: Darksteel Plate is indestructible. Equipped creature has indestructible.
Godsend: Equipped creature gets +3/+3. Whenever equipped creature blocks or becomes blocked by one or more creatures, The Planeswalker may exile one of those creatures. Their opponents can't cast spells with the same name as a card exiled with Godsend.
Lightning Greaves: Equipped creature has haste and shroud. (It can't be the target of spells or abilities.)
Swiftfoot Boots: Equipped creature has hexproof and haste.
Sword of Body and Mind: Equipped creature gets +2/+2 and has protection from green and from blue. Whenever equipped creature deals combat damage to a player, The Planeswalker creates a 2/2 green Wolf creature token and that player puts the top ten cards of their library (mind) into their graveyard.
Sword of Feast and Famine: Equipped creature gets +2/+2 and has protection from black and from green. Whenever equipped creature deals combat damage to a player, that player discards a card and The Planeswalker untap all lands they control.
Sword of Fire and Ice: Equipped creature gets +2/+2 and has protection from red and from blue. Whenever equipped creature deals combat damage to a player, Sword of Fire and Ice deals 2 damage to any target and The Planeswalker gains more power.
Sword of Light and Shadow: Equipped creature gets +2/+2 and has protection from white and from black. Whenever equipped creature deals combat damage to a player, The Planeswalker gain 3 life and they may return up to one target creature card from the graveyard to their hand.
Sword of War and Peace: Equipped creature gets +2/+2 and has protection from red and from white. Whenever equipped creature deals combat damage to a player, Sword of War and Peace deals damage to that player equal to the number of cards in their hand and The Planeswalker gain 1 life for each card in their hand.
Umezawa's Jitte: Whenever equipped creature deals combat damage, put two charge counters on Umezawa's Jitte. Remove a charge counter from Umezawa's Jitte: Choose one - Equipped creature gets +2/+2 until end of turn, Target creature gets -1/-1 until end of turn, The Planeswalker gain 2 life.
Whispersilk Cloak: Equipped creature can't be blocked and has shroud.
Intelligence: Possess complete mastery of all five colors of mana as well as the colorless mana that exists outside the spectrum. Knows every single type of spell and artifact in the entire series and has knowledge of the Multiverse. Can use a plethora amount of blue spells to further increase their intelligence.
Weaknesses: None Notable
During the tutorial of MTG Arena; a weakened, amnesiac Planeswalker ends up defeating a serious Nicol Bolas
In the Magic Duels series, the Planeswalker goes around defeating all the gods and planeswalkers in the story
Notable Attacks/Techniques: List of all spells in Magic
Note: Counterspells, despite its name, has shown to counter things beyond just magic. It has shown to be capable of countering a barrage of arrows, artifacts, matter, living beings, and even countering someone's existence.
Others
Notable Victories:
Notable Losses:
Inconclusive Matches:
Community content is available under
CC-BY-SA
unless otherwise noted.