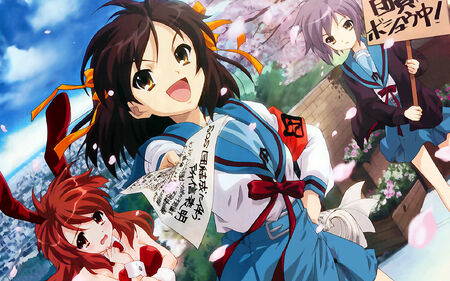 For detailed information about this series, visit the Haruhi Suzumiya Wiki.
Summary
The story revolves around the tales of Haruhi Suzumiya, a high school girl with godlike abilities that are unbeknownst to her. If kept unchecked, her powers could accidentally destroy the entire universe. Bored with her everyday life, Haruhi starts a high school club to search for supernatural beings. Ironically, paranormal people like aliens, espers and time travelers join just to keep her extraordinary power in check.
Power of the verse
The Melancholy of Haruhi Suzumiya has extremely potent hax, with reality warping and time manipulation capable of splitting and reforming entire timelines. However they are severely lacking in physical power, durability and speed.
Supporters/Opponents/Neutral
Supporters
Opponents
Neutral
Characters
Community content is available under
CC-BY-SA
unless otherwise noted.