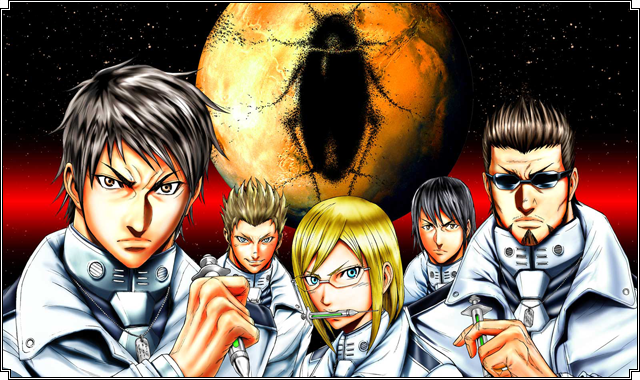 Summary of the plot
With the space program attempting to travel to Mars, 21st century scientists were tasked with warming up the planet so that humans could survive on its surface. They came up with an efficient and cost effective plan of sending cockroaches and mold to the surface so that the mold would absorb the sunlight and the insect corpses would serve as a food source for the mold.
It is now the year 2577 and the first manned ship to Mars has landed on the planet and the six crew members are ready for their mission. But what they find are giant mutated humanoid cockroaches with incredible physical strength. The crew members are easily wiped out, but not before sending a transmission back to Earth. Now, humanity will send elite warriors to exterminate the mutated bugs and claim back Mars.
For more info on the series, see the Terra Formars Wiki
Power of the Verse
This verse generally has a low level of power with characters varying from Wall level to Building level, and speeds averaging between subsonic and supersonic.
The verse has a range of unique fighting styles due to characters transforming into unique human-animal hybrids granting them various abilities such as Thread Manipulation, Invisibility, Disease Manipulation, Electricity Manipulation, Magnetism Manipulation, Forcefield Creation, Sound Manipulation, Poison Manipulation, Regeneration, Illusion Creation, etc.
Supporters and Opponents of the verse
Supporters:
Drellix
CoreOfimBalance(COB)
Damage3245
Neutral:
Opponents:
Characters
Squad 1 - Japan/USA
Shokichi Komachi
Keiji Onizuka
Marcos E. Garcia
Kanako Sanjo
Jared Anderson
Squad 2 - USA/Japan
Alex K. Stewart
Peggy Fortie
Yaeko Yanasegawa
Amelia Venkatesh
Wolf Redfield
Ryuji Robson
Ryuichi Robson
Squad 3 - Russia
Alexander Asimov
Ivan Perepelkin
Elena Perepelkina
Nina Yujik
Anastasia Andreevna Politkovskaya
Aaron Yujik
Squad 4 - China
Liu Yiwu
Xi Chun-Li
Hong
Bao Zhilan
Jet
Borgijin Dorjiberke
Squad 5 - Germany
Squad 6 - Roman Federation
Chinese Army
Terraformars