For more information about Steam Powered Giraffe, please visit their lore page.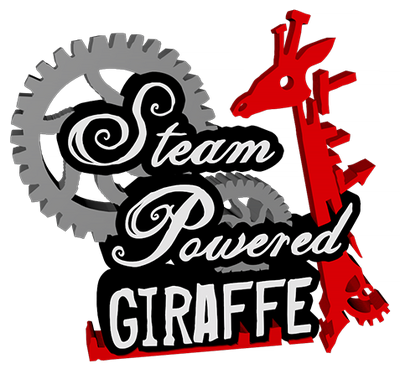 "

What we all need is something steam powered.
What we all need is a... Steam Powered Giraffe!

"
~ Steam Powered Giraffe
Summary
Steam Powered Giraffe is a steampunk band focused around the Walter Robotic's Company, an organization started in the 1800s by Peter A. Walter as a means of competing with his rival, Thadeus Becile, for the hand of Delilah Moreau. Using the power of Blue and Green matter, mysterious elements with tremendous and mysterious power, the two continued to try to outmatch each other, ultimately leading to an all-out war which led to the defeat of Thadeus. After the war, Peter attempted to help his robots forget the horror they had seen and return to the original programming: making music. They premiered at The First World's Fair of 1915 in San Diego, California under the name "P. A. Walter's Steam Man Band."
Since then, they have entertained countless captivated audiences. Through the years the robots' musical career was severed multiple times when they served in the gruesome wars of mankind. To help fund the diminishing Walter fortune, various Walters after Peter made agreements with the American government, but after World War I, II, and Vietnam, the army of robots finally were able to put their dark past behind them and exist in peace, some which focus solely on playing music. Years later, Peter's great great great great grandson Peter Walter VI renamed the robots "Steam Powered Giraffe" after the good-natured invention of an inspired inventor and reprogrammed them to serve solely as singing antique automatons who regularly get into wild and wacky scenarios in their everyday lives.
Power of the verse
Steam Powered Giraffe is a deceptively powerful verse. Despite starting out as a verse that capped at Large Building level, it has since grown exponentially, with the God Tiers capping at Complex Multiversal with a good amount of hax. The Robots themselves have the ability to summon higher dimensional beings and use extremely potent Broadway Force, and each has their own unique abilities that make them even more powerful.
Supporters/Opponents/Neutral
Supporters
Opponents
Neutral
Characters
Community content is available under
CC-BY-SA
unless otherwise noted.