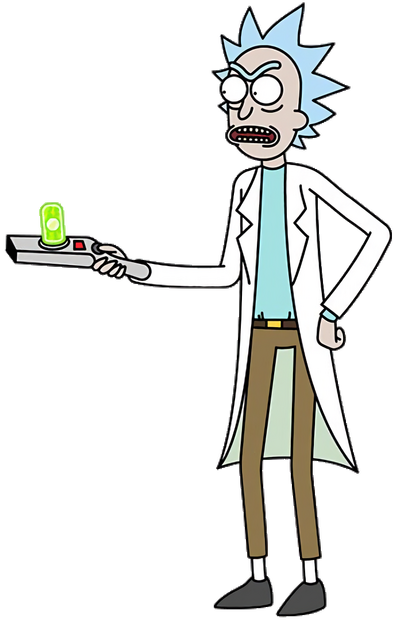 | | | |
| --- | --- | --- |
| " | I mean, we don't really buy into that kind of crap, to the extend that love is an expression of familiarity over time. My access to infinite timelines precludes the necessity of attachment. In fact, I even abandoned one of my infinite daughters in an alternative version of Earth that was taken over by mutants. | " |
| | ~ Rick to Jaguar | |
| | | |
| --- | --- | --- |
| " | Wubba lubba dub-dub! | " |
| | ~ Rick's Season 1 catchphrase | |
| | | |
| --- | --- | --- |
| " | Because I don't respect therapy. Because I'm a scientist. Because I invent, transform, create, and destroy for a living, and when I don't like something about the world, I change it. And I don't think going to a rented office in a strip mall to listen to some agent of averageness explain which words mean which feelings has ever helped anyone do anything. I think it's helped a lot of people get comfortable and stop panicking, which is a state of mind [...] we value in the animals we eat, but not something I want for myself. I'm not a cow. I'm a pickle. When I feel like it. | " |
| | ~ Rick | |
Summary
Rick Sanchez is one of the 2 main protagonists of Rick & Morty. He's an alcoholic extraordinary genius with a complex and rather nihilistic view of life, as well as a mostly unexplored backstory. Rick usually does diverse activities to benefit himself, goes on adventures with his grandson Morty and messes with others he dislikes. He cares little about others and the universe where he lives due to access to infinite timelines, believing everyone and everything to be replaceable and unspecial as well as that others should think the same. This makes him both being able to feel love for others should he care about them and simultaneously take minor concerns about things such as their deaths or have no problem abandoning them. Nonetheless, he occasionally contradicts the pessimistic beliefs he claims to have.
Powers and Stats
Tier: 9-B, higher with guns and other technology | 9-B, higher with guns and other technology | Varies from 10-C to 5-A, up to 4-B with inventions and technology. Likely at least Low 2-C with sufficient preparation | 10-C physically, 9-B while equipped
Name: Rick Sanchez | As before | As before, Pickle Rick (By himself), Solenya (By Russian agents)
Origin: Rick & Morty
Gender: Male
Age: Around 70
Classification: Human, the smartest person in the universe, mad scientist, Morty's grandfather, Rick of Earth C-137, the Rick-est Rick (By himself compared to other Ricks) | As before | Living pickle, "Pickle man" (By Jaguar)
Powers and Abilities:
Attack Potency: Wall level (Able to hurt large aliens with his fists), higher with guns (Could easily kill adults aliens capable of easily bursting through walls as teenagers[58]) and other technology | Wall level, higher with guns and other technology | Varies from Below Average Human to Large Planet level (Was going to destroy the Earth in the first episode. Created an explosion the size of a large planet with a recipe similar to that of Concentrated Dark Matter[59]. Enlarged a giant dead naked homeless person to the size of the United States of America and blew him up by enlarging a stick of dynamite along with the corpse[60]. Dragged the Earth across interstellar distances in space with his Space cruiser and devices connecting it to the planet[61]), up to Solar System level (Believed he could destroy a solar system with a Neutrino Bomb while he was blackout drunk) with inventions and technology, certain of them ignore durability. Likely at least Universe level+ with sufficient preparation (Should be comparable to his C-132 counterpart, who built a machine which can merge and eradicate entire timelines) | Below Average Human (Is a stationary pickle), Wall level while equipped (His laser melted holes in 3 heads at once and caused major damage to a room)
Speed: Peak Human | Peak Human | Peak Human by himself, higher with combat suits, Massively FTL+ in his spaceship (Capable of quickly traversing the universe, traveled 800 light years in a brief time) | Immobile for his pickle body, Normal Human for his face. Supersonic while equipped (His rat limbs allowed him to dodge bullets from close distances)
Lifting Strength: Unknown
Striking Strength: Wall Class | Wall Class | Wall Class, higher with combat suits | Below Average Class
Durability: Wall level (Withstood being smashed through several floors after his forcefield was deactivated), higher with forcefields | Wall Class, higher with forcefields. Resurrection & immortalities make him extremely difficult to kill | Wall level, higher with forcefields & combat suits. Resurrection & immortalities make him extremely difficult to kill | Below Average (His pickle body is easily damaged). Resurrection & immortalities make him extremely difficult to kill
Stamina: Can fight for long periods of time without rest | As before | As before | Unknown
Range: Average melee range, higher with weapons | Multiversal+ with portal gun, Interdimensional Goggles and Interdimensional Cable. Planetary via Size & Explosion Manipulation. Universal with spaceship | A few cm with screws and saw, a few meters with laser
Standard Equipment: His labcoat, Portal gun, Freeze ray (Used in the first episode and later seen in his labcoat[62]) and a futuristic gun (Usually has one but its purposes varies between shooting energy and disintegrating people, one has a variable setting with a stun option in it). The following items were used at least once without any notable prior preparation, and should thus be commonly carried by him: A wristwatch with a particle beam in it & a snake holster on his leg [63] | As before, unnamed device that could reduce targets to ashes[64] (He only had 2 and used one), mind eraser[65], a device could replace his amputated arm and stop the bleeding from it[66], forcefield devices (2 variants[67][68]), various small explosive devices and other unnamed gadgets[69], a device that could analyze his surroundings and formulate several trajectories to solve how something end up in the place in which it was[70] | His Optional Equipment | Laser and rat limbs
Optional Equipment: His inventions and the technology he has used; Space cruiser, a Neutrino Bomb, cognition amplifier, dream inceptor, shrink ray, concentrated dark matter energy, Meeseeks box, demonic alien containment box, love potion & love antidote, anti-booby suit, etc.
Intelligence: Supergenius. He was able to create a miniature sentient robot just to pass butter and grant a dog highly advanced intelligence in only a few seconds. He was also able to tell when he was inside a simulation inside a simulation inside another simulation and still flawlessly trick the Zigerion scammers into blowing themselves up. He is regarded as the smartest mammal in the univere.
Weaknesses: Rick is genuinely insane, alcoholic, has a serious drug addiction, and is often reckless. Has a genuine fear of squirrels and pirates. Is cocky and egotistical, which can lead to trouble for him | As before | Pickle Rick will die after a few hours
Notable Attacks/Techniques:
Attacks, techniques, etc. that Rick has shown to have before creating the Phoenix Project, including things shown afterwards that he should still scale to do or have.
Portal Gun: A gun that rips a hole in space-time, allowing travel to any point in any universe. Opening a portal inside another being rips them in two.
Futuristic Guns: Rick has been shown using a number of futuristic guns. Some just do damage to a target, others easily perforate targets with the energy they shoot, and others reduce targets to ashes. In the comics, he has been shown having a gun with a setting of options in it, that one being able to stuns targets, but Rick has been shown carrying up to 2 guns with him.
Freeze Ray: Completely freezes organic targets, turning them into incredibly fragile icy statues. Since the affects can be undone, this is used in the rare case of nonviolent neutralization. Comes in taser and gun form.
Mind Eraser: A gun that he uses to erase Morty's specific memories should the latter ask for it or Rick feel like it, it has shown being able to make a target forget everything and not know its own identity[71]. Rick shows having it through a flashback and has use it far more times than the amount of adventures we saw him have, hence its inclusion in the Pre-Phoenix Project key.
Particle Watch: A wristwatch that fires a concentrated particle beam. Completely destroys the target on a subatomic level.
Forcefield: As of The Rickchurian Mortydate Rick had an invisible forcefield that reflected bullets from 9 diferentes angles back into the aggressors, killing them.
Death Manipulation: Coming from other unnamed gadget in The Rickchurian Mortydate, touching Rick made a person die instantly without making any sound. All of which was even highlighted by other characters.
Attacks, techniques, etc. that Rick has shown after creating the Phoenix Project. It stands to reason for him to still have all prior abilities & equipment as they were standard.
Attacks, techniques, etc. for Rick when he turned himself into a pickle. It should be noticed that dying would still trigger the Phoenix Project and thus removing Rick from this state.
Acrobatics: Rick shows using parkour and various acrobatics to dodge attacks and mobilize himself.
Laser: A laser made manually that uses batteries to function, it casually went through the heads of 3 persons at once.
Attacks, techniques, equipment, etc. that Rick has shown with preparation time or not using regularly. Including inventions done by himself and tech and things from other sources.
Time Freeze: Freezes time on a universal scale. Due to technology stolen from the 4th dimension, Rick can do this with the press of a button.
Curse Remover: A device which can remove magical properties from a wide variety of different things. Since it is able to remove certain effects while leaving others intact, Rick used this device to turn cursed objects into completely beneficial ones (i.e. turning a pair of boxing gloves which would cause the wearer to be stuck reliving a single fight for all eternity into a pair of time traveling mittens).
Dream Inceptors: A small device which, when implanted into the ear of an unconscious sentient being, allows the user to travel into the being's dreams, potentially implanting new thoughts and influencing the behavior of the target once they wake up.
Anti-Matter Gun: A pistol that shoots anti-matter. Capable of even killing trans-dimensional higher beings immune to traditional matter and energy based attacks.
Concentrated Dark Matter: A method used for travelling faster than anyone else in the universe; similar chemical reactions cause massive explosions. A handful of the components mixed incorrectly resulted in an explosion the size of Jupiter.
Love Potions/Diseases: Created a virus that made whoever it was used on fall in love with Morty (Except those genetically related to him), but due to it being flu season, the substance piggybacked on the flu and began to spread; he created two others to counter that. The first turned everyone on the planet into praying mantis monsters, while the second turned everyone into Cronenberg monsters.
Size Shifting: Able to affect people and objects, either making them tiny enough to fit inside someone or making them grow to the size of a continent.
Meeseeks Button: Summons a bunch of immortal creatures that will perform one task before dying. Become more insane the longer they exist due to hours seeming like an eternity, to them. Meeseeks are apparently completely unable to die until their task is completed, and giving them a task which is seemingly impossible to complete will eventually result in the summoned Meeseeks resorting to the most drastic measures to complete the task by technicality[83].
Death Crystals: Upon touching one of them and while keep doing that, the crystal/s make their users see visions of how they are going to die, by it with the same result repeated many times or many alternatives ways within diverse circumstances. The actions of the user can constantly change the way in which they die upon seeing their future, which Rick has used in combat to know when he dies by his enemies and when he dies by unrelated circumstances, the latter meaning that he survives/defeats his current enemies[84].
Anti-booby suit: A suit that protects Rick from general traps from old temples, making him casually walk through them. It's rather simple as it doesn't have much aside from high durability[85].
A continuation from the latter section. Some of the devices used in Rick & Morty don't get to have a name, this is a list of those things based on the powers they give.
Adhesive Manipulation: While having stolen Rick's technology, Marty had an adhesive liquid to stuck a bully into a wall[86].
Fragrance Manipulation: Done via a small machine that creates poop and an unpleasant fragrance[87].
Large Size: It belongs to the giant robot Rick controls, which has his form and unexplored mobility and capacities[88].
Key: Pre-Phoenix Project | Post-Phoenix Project | With Preparation Time/Optional Equipment | Pickle Rick
Others
Notable Victories:
Cyrus (Pokémon) Cyrus' Profile (Cyrus used his Gen VII team, Rick had a month of preparation, both had previous knowledge, and speed was equalized)
Notable Losses:
Inconclusive Matches:
References