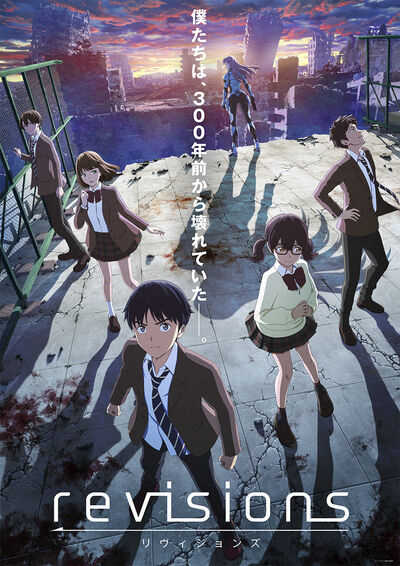 For detailed information about this series, visit the Revisions Wiki. Spoiler warning for those who haven't watched Revisions.
Summary
Revisions is an anime television series directed by Gorō Taniguchi and animated by Shirogumi. The show focuses mostly around Daisuke Dojima, a student who was kidnapped when he was a child. Now he and his friends are involved in one of the "Shibuya Drift" strange events, travelling 300 years into the future. There, the enemy known as "Revisions" fight using giant mechanical monsters. Daisuke and his friends are fighting to defeat the enemy and recover their present.
Power of the Verse
While the show does seem to be focused on a robotic and futuristic world, reality distortions begin to occur along with time distortion.
Calculations
Supporters/Opponents/Neutral
Supporters
Opponents
Neutral
Characters
Daisuke Dojima
Milo
Chang Gai Steiner
Chang Lu Steiner
Marin Temari
Keisuke Asano
Chiharu Isurugi
Mukyu Isurugi
Nicholas Satō
Community content is available under
CC-BY-SA
unless otherwise noted.