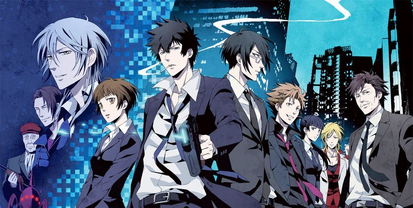 Summary 
Psycho-Pass (Japanese: サイコパス Hepburn: Saiko Pasu?, stylized as PSYCHO-PASS) is an anime television series that was produced by Production I.G, directed by Naoyoshi Shiotani and Katsuyuki Motohiro and written by Gen Urobuchi. The series was aired on Fuji TV's Noitamina programming block between October 2012 and March 2013. The story takes place in an authoritarian future dystopia, where omnipresent public sensors continuously scan the mental states of every passing citizen.
Collected data on both present mentality and aggregated personality data is used to gauge the probability of that citizen committing a crime, the rating referred to as that citizen's Psycho-Pass. Authorities are alerted whenever excessive ratings are detected, and officers of the Public Safety Bureau are dispatched with weapons called "Dominators", energy pistols that modulate their power in response to the target's Psycho Pass. The story follows Akane Tsunemori and Shinya Kogami among other members of Unit One of the Public Safety Bureau's Criminal Investigation Division.
Power of Verse
Both Inspectors and Enforcers have access to the Dominator, which allows them to have pretty decent one hit kill techniques.
In base, every character ranges from Normal Human Level to Wall Level.
Supporters/Opponents/Neutral
Supporters
Opponents
Neutral
Characters
Inspectors:
Mika Shimotsuki
Shion Karanomori
Mitsuru Sasayama
Sho Hinakawa
Enforcers:
Nobuchika Ginoza
Shusei Kagari
Tomomi Masaoka
Yayoi Kunizuka
Criminals:
Sakuya Togane
Kirito Kamui
Kozaburo Toma
Rikako Oryu
Toyohisa Sanguji
Rina Takizaki
Sibyl System:
Joshu Kasei
Weapons
Community content is available under
CC-BY-SA
unless otherwise noted.