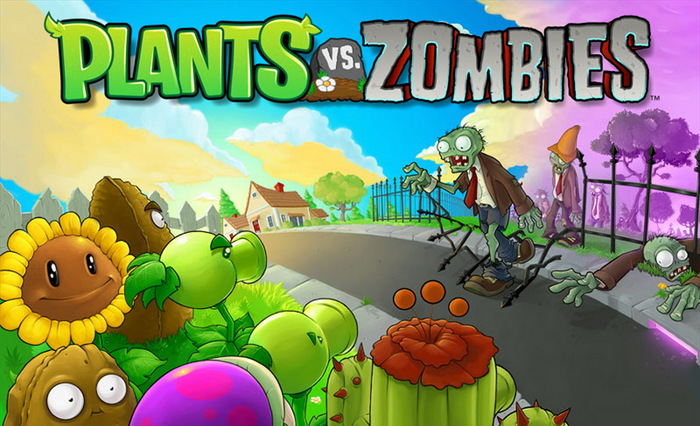 For detailed information about this series, visit the Plants vs. Zombies Wiki.
Summary
Plants vs. Zombies is a strategy game made by the company PopCap (now owned by Electronic Arts). In the game you play as an unnamed homeowner as you protect your house against the zombie apocalypse. Later on you meet Crazy Dave, a crazy neighbor who attempts to help you survive. There is also a sequel to this game called Plants vs. Zombies 2: It's About Time which is a free mobile game with in-app purchases where you, Crazy Dave and a new character called Penny, a talking time machine camper van, as you travel through time and space (hence the name) and once again try and survive the zombie apocalypse.
Power of the Verse
Thanks to the Suburban Almanac, it is fairly easy to guess the powers of the plants and zombies of this game. Most of the characters from this game are very slow and predictible (except from everyone in the main characters category).
Supporters/Opponents/Neutral
Supporters
Opponents
Neutral
Characters
Main Characters
Plants
Chomper
Repeater
Puff-Shroom
Sun-Shroom
Fume-Shroom
Grave Buster
Hypno-Shroom
Scaredy-Shroom
Ice-shroom
Doom-shroom
Lily Pad
Squash
Threepeater
Tangle Kelp
Jalapeno
Spikeweed
Torchwood
Tall-Nut
Sea-shroom
Plantern
Cactus
Blover
Split Pea
Starfruit
Pumpkin
Magnet-shroom
Cabbage-pult
Flower Pot
Kernel-pult
Coffee Bean
Garlic
Umbrella Leaf
Marigold
Melon-pult
Gatling Pea
Twin Sunflower
Gloom-shroom
Cattail
Winter Melon
Gold Magnet
Spikerock
Cob Cannon
Plant Heroes
Wall-Knight
Chompzilla
Spudow
Citron
Grass Knuckles
Nightcap
Captain Combustible
Beta-Carrotina
Zombies
Flag Zombie
Conehead Zombie
Pole Vaulting Zombie
Buckethead Zombie
Newspaper Zombie
Screen-door Zombie
Disco Zombie
Backup Dancer
Ducky Tube Zombie
Snorkle Zombie
Zomboni
Zombie Bobsled Team
Dolphin Rider Zombie
Jack-In-The-Box Zombie
Balloon Zombie
Digger Zombie
Pogo Zombie
Zombie Yeti
Bungee Zombie
Ladder Zombie
Catapult Zombie
Imp
Zombie Heroes
The Smash
Impfinity
Rustbolt
Electric Boogaloo
Brainfreeze
Professor Brainstorm
Immorticia
Z-Mech
Neptuna
Huge Gigantacus
 Other
Gallery
Community content is available under
CC-BY-SA
unless otherwise noted.