For detailed information about this series, visit the One-Punch Man Wiki
.
Summary
One Punch Man follows the life of an average hero who manages to win all of his battles with only one punch! This ends up being the cause of a lot of frustration as he no longer feels the thrill and adrenaline of fighting a tough battle. Maybe all of his rigorous training to become strong wasn't worth it. After all, what's so good about having overwhelming power?
Power of the Verse
Most relevant characters are casual Large Town to City level. And the stronger fighters have shown to be Large Island to Continent level with ease. Lord Boros even stated that he would have destroyed the surface of the Earth in the manga, which the manga's guidebook supported. A good amount of heroes/monsters are also dozens of times faster than sound, with the top tiers being Relativistic or higher.
Calculations
Supporters/Opponents/Neutral
Supporters
Opponents
Neutral
Characters
Vehicles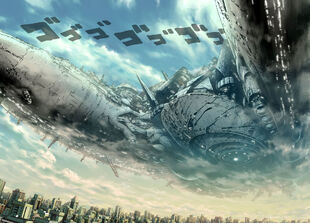 Community content is available under
CC-BY-SA
unless otherwise noted.