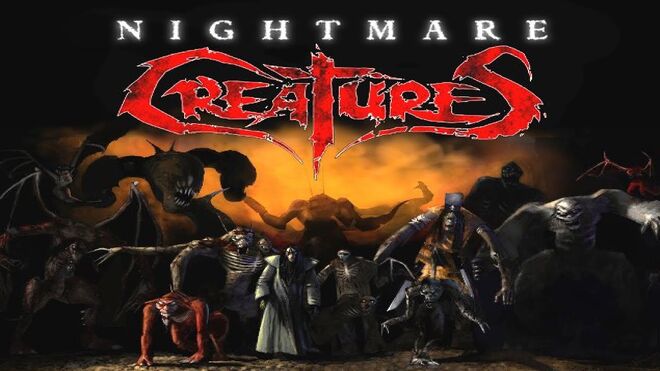 Summary
Nightmare Creatures is a 3D action adventure, survival horror video game released for the Sony PlayStation and PC in 1997, and Nintendo 64 in 1998. It was published by Activision and developed by Kalisto Entertainment.
The story behind Nightmare Creatures draws upon gothic horror elements of the 19th century. The story begins in 1666, when a devil-worshipping cult called The Brotherhood of Hecate were conducting sinister experiments in London so as to take over the city, and then the world. The Brotherhood tried to develop an elixir that would endow them with superhuman powers. However, rather than creating their intended superhumans, their experiments created only nightmarish creatures. When they decided to use these creatures as an army of conquest, one of their number, Samuel Pepys, set their headquarters on fire, resulting in the First Great Fire of London.
The game takes place in 1834 when London falls victim to several evil occurrences. Monster sightings are reported along with news of people mutating into ungodly creatures, and that the dead are waking from their graves and walking amongst the living. All of London is in a panic and vulnerable to the ghastly schemes of Adam Crowley, a mad scientist and occultist enlisting the help of the Brotherhood. Until a mysterious book is dropped off at the home of Ignatius Blackward, a priest and occult expert. He soon discovers that the book is a Lost Diary of Samuel Pepys, which contained the Brotherhood's research. Knowing he needs help, Ignatius sends the diary to a renowned American immunologist named Dr. Jean Franciscus of New Orleans, who shows up with his daughter Nadia Franciscus in town. The good doctor is promptly murdered and the book stolen. At the funeral, Ignatius and Nadia are approached by a man who gives them a note reading: "Know about Adam Crowley, Brotherhood of Hecate --- HVHJ." Ignatius and Nadia head out to an address listed on the note, hoping to seek out Crowley and to resolve the monstrous activity that grips London.
Power of the Verse
This horror verse is  surprisingly powerful, characters like Nadia Franciscus are considered Wall level physically and At least Wall level to Small Building level equiped with several weapons. There are land, air and sea creatures that boost the power of the verse higher.
The top tiers of this verse are the Krakens. They were believed to be responsible for destroying a castle and most of Paris.
Supporters/Opponents/Neutral
Supporters
Opponents
Neutral
Characters
The Circle
Creatures
Community content is available under
CC-BY-SA
unless otherwise noted.