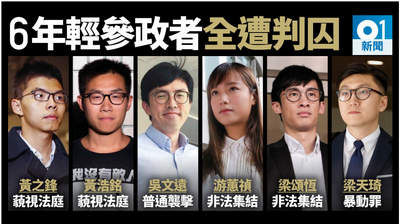 Six young political prisoners, all jailed...Hong Kong is deteriorating thanks to China.
From left to right: Joshua Wong (3 months), Raphael Wong (1 year, 5 months, 15 days), Avery Ng (4 months, 3 weeks), Regine Yau (1 month), Sixtus Leung (1 month), Edward Leung (7 years)
There are a lot more political prisoners, these six are only the most famous ones. #support
Fanfiction.net account same as here
Discord name: Spinosaurus75DinosaurFan#0624

Give Kudos to this message
You've given this message Kudos!
See who gave Kudos to this message