Credit goes to the Magi wiki for several of the character page information summaries.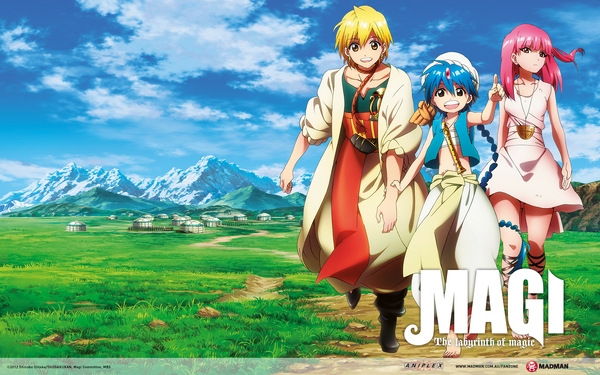 Summary
After being secluded for his entire life, a boy called Aladdin travels the world until he meets Alibaba Saluja, a young man aiming to one day explore the nearby dungeon Amon and claim its treasures. Aladdin and Alibaba eventually become friends, and conquer Amon together, despite facing the opposition of the ruthless Jamil and his slave warriors, with only Alibaba, Aladdin and Morgiana, the only survivor of Jamil's party, escaping with their lives. For some reason, Aladdin ends up teleported to a distant land, far away from the others, where he learns that he is a Magi. Having no news of his friend, Alibaba uses the treasure he obtained in Amon to free all slaves in the city, including Morgiana and returns to Balbadd, his homeland.
Power of the Verse
Magi has several characters within the Small Country level and Country level range. However, characters such as Ugo and Sinbad have reached High Multiverse level+ and the higher Gods of the verse have reached Hyperverse level in attack potency, making it one of the strongest anime/manga verses. 
Magi is a pretty fast verse. On several occasions, characters are able to react to light, going from Relativistic+ to FTL speeds.
Supporters / Opponents of the Verse
Supporters:
Neutral:
Opponents:
Characters
Kingdom of Sindria
Magi's
Alma Toran
Fanalis
Kou Empire
Gods
Baldadd
Al-Thamen