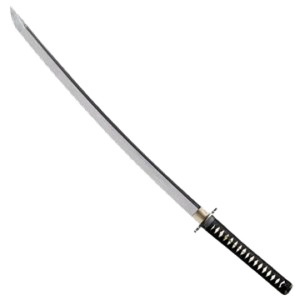 Summary
The Katana is a type of single-edged longsword indigenous to Japan. It first saw use during the Muramachi period of Japan's history, just prior to the rise of Oda Nobunaga. Since then, its decidedly impressive design and former status as a symbol of nobility has ingrained it into pop culture, leading to its production even in the modern day.
Powers and Stats
Tier: 9-C
Name: Katana
Origin: Real Life
Age: Varies depending on the sword, most ready for use blades are only a few years old at most
Classification: Japanese single-edged sword
Length: Approximately 60–73 cm in blade length
Weight: Approximately 1.1–1.3 kg
Users: Most Japanese soldiers from the Middle Ages, but it was mostly used by samurai in the Warring States period
Attack Potency: Street level (Can cleanly slice through someone's arm or neck)
Durability: Street level (Can clash against another katana and just dent a little, but it is slightly fragile)
Range: Extended melee range
Weaknesses: Dents and sometimes even bounces if it clashes against any other kind of sword or plate armor
Gallery
Community content is available under
CC-BY-SA
unless otherwise noted.