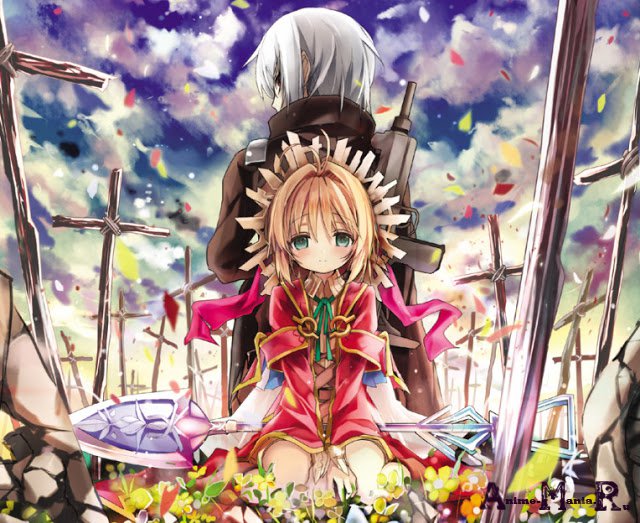 For detailed information about this series, visit the Kamisama no Inai Nichiyoubi Wiki.
Summary
Sunday Without God (神さまのいない日曜日 Kami-sama no Inai Nichiyōbi?), also known as Kaminai (神ない?) for short, is a Japanese light novel series written by Kimihito Irie, with illustrations by Shino. Fujimi Shobo has published nine volumes since January 2010 under their Fujimi Fantasia Bunko imprint. A manga adaptation by Abaraheiki began serialization in the November 2010 issue of Fujimi Shobo's Monthly Dragon Age. A drama CD was released by Marine Entertainment on December 29, 2010.[2] A 12-episode anime TV series adaptation produced by Madhouse and directed by Yūji Kumazawa, aired between July and September 2013.
Plot
The story is set in a fictional world, where, fifteen years earlier, human beings lost the ability to have children and to truly die. Those who have died continue to exist, regardless of injury and decay. According to legend, God abandoned his creations, but left them one final gift in the form of "gravekeepers," strange individuals with the ability to give rest to the living dead. Twelve-year-old Ai is one such gravekeeper. Her life changes forever when an immortal gunslinger named Hampnie Hambart massacres the residents of her small village. With no place to go, Ai is forced to rely on Hampnie, and she comes to learn the truth about him and her village.
Afterwards, she sets out on a journey, performing her duties as a gravekeeper and striving to learn more about why the world has fallen into such a state, and she declares her desire to save the world God has abandoned. While on her journey, she encounters new people: Hampie's childhood friend Julie, the gravekeeper Scar, a mysterious boy named Alice, and a ghostly witch named Dee.
Supporters/Opponents/Neutral
Supporters
Characters
Community content is available under
CC-BY-SA
unless otherwise noted.