Wiki Targeted (Entertainment)
Play Sound
Summary
JoJo's Bizarre Adventure is a continuing manga series written and illustrated by Hirohiko Araki. It currently has eight Parts and two different timelines. Within them, various members of the Joestar family (always being capable of being nicknamed JoJo) embark on bizarre journeys in different time periods. In the first six Parts, the main influence of these quests is somehow related to the malevolent Dio Brando. In the seventh and eighth Parts, it is caused and driven by a mysterious Holy Corpse.
Parts of the Verse
Part I: Phantom Blood: Jonathan Joestar fights his adopted brother, Dio Brando, after he becomes a vampire with the Stone Mask's mysterious powers.
Part II: Battle Tendency: Joseph Joestar, grandson of Jonathan Joestar, fights the Pillar Men and the creator of the Stone Mask, Kars, to prevent him from obtaining the Red Stone of Aja and becoming the Ultimate Lifeform.
Part III: Stardust Crusaders: Jotaro Kujo, grandson of Joseph Joestar, journeys to Egypt together with the titular group to fight a reawakened DIO, who has set a curse on his mother.
Part IV: Diamond is Unbreakable: Josuke Higashikata, illegitimate son of Joseph Joestar, seeks the serial killer Yoshikage Kira to end his killing spree and relieve the spirit of his first victim.
Part V: Vento Aureo: Giorno Giovanna, illegitimate son of DIO and true name Haruno Shiobana, joins a gang to assassinate the Boss of said gang to take control of the organization to cease its heinous crimes.
Part VI: Stone Ocean: Jolyne Cujoh, daughter of Jotaro Kujo, is framed and sent to prison by DIO's best friend and final associate, Enrico Pucci. Pucci plans to achieve the unfinished plans of DIO and to achieve 'Heaven'. The original timeline ends here.
Part VII: Steel Ball Run: The new timeline (which holds no relation to the previous six Parts) starts here. Jonathan "Johnny" Joestar, a paraplegic, joins the Steel Ball Run continental race across North America after confronting a man who causes his paralyzed legs to move.
Part VIII: JoJolion: Josuke Higashikata, descendant of Johnny Joestar, is found underground with retrograde amnesia. His bizarre physiology suggests that he is a fusion of a Yoshikage Kira and an unknown individual. He must regain his lost memories and learn the events preceding his fusion.
(THE BELOW ARE CONSIDERED TO BE NON-CANON)
JORGE JOESTAR: The story follows the events of both George Joestar II, son of Jonathan Joestar as well as the journey and explanation leading to his ultimate demise, and the story of Joji Joestar, a prodigious detective of the 37th iteration of the main universe.
Characters
Powers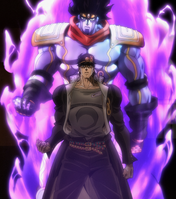 Weapons
Gallery
Discussions