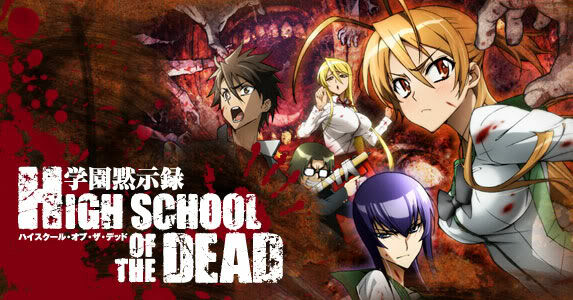 Summary
Highschool of the Dead, known in Japan as Apocalyptic Academy: Highschool of the Dead (Japanese: 学園黙示録 HIGHSCHOOL OF THE DEAD Hepburn: Gakuen Mokushiroku Haisukūru obu za Deddo), is a Japanese manga series written by Daisuke Satō and illustrated by Shōji Satō. It was serialized in Fujimi Shobo's Monthly Dragon Age between the September 2006 and May 2013 issues, but was left unfinished following Daisuke Satō's death in March 2017. Fujimi Shobo and Kadokawa Shoten published seven tankōbon volumes from March 2007 and April 2011 in Japan. Yen Press published the series in North America. The story follows a group of high school students caught in the middle of a zombie apocalypse.
A 12-episode anime adaptation, produced by Madhouse and covering the first four volumes, aired in Japan from July 5 to September 20, 2010. Madhouse also produced an original video animation (OVA) episode in 2011. Sentai Filmworks released an English dub of the anime series and OVA on DVD and Blu-ray in North America.
Main Timelines of the Series
Power of the Verse
HOTD verse is relatively strong, boasting superhuman characters and creatures. The verse is also riddled with a highly infectious virus that can cause anyone infected by it to become a Zombie.
Some human characters such as Saeko Busujima range from athlete physically to Street level with weapons.
While some zombies can be taken down by athletic humans, in larger numbers they are extremely dangerous and hard to kill or contain by normal means:
The zombies have wiped out most of humanity.
Each Zombies individual attack potency is Wall level.
Zombies can only die from severe brain trauma.
In high numbers, they can destroy humanity in a few hours.
Supporters/Opponents/Neutral
Supporters
Opponents
Neutral
Characters
Humans
Zombies
Community content is available under
CC-BY-SA
unless otherwise noted.