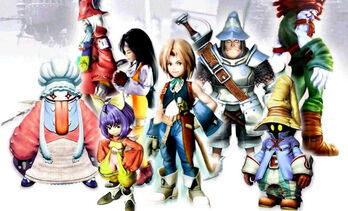 Summary of this verse
Final Fantasy IX is the ninth installment in the Final Fantasy series, released by Square in 2000. It is directed by Hiroyuki Ito and co-produced by Hironobu Sakaguchi and Shinji Hashimoto. It is the third and last Final Fantasy in the main series to be produced for the PlayStation. Unlike Final Fantasy VII and Final Fantasy VIII, Final Fantasy IX was not immediately ported to the PC. A Steam version is scheduled for release in early 2016. On April 2nd, 2010, it was announced on Twitter that Final Fantasy IX would be added to thePlayStation Network, and was released for PSN on May 20th, 2010 for Japanese players, May 26th, 2010 for European and Australian players, and on June 15, 2010 for North American players.
Power of the verse
Power-wise, it's very powerful and is comparable to other verses within the Final Fantasy Multiverse with at least Dwarf Star level threats such as Necron, who can't even be destroyed by regular means and it shall continue to exist as long as there is life and death.
Supporters
Characters of this verse
Steiner
Freya
Amarant
Quina
Bahamut
Odin
Community content is available under
CC-BY-SA
unless otherwise noted.