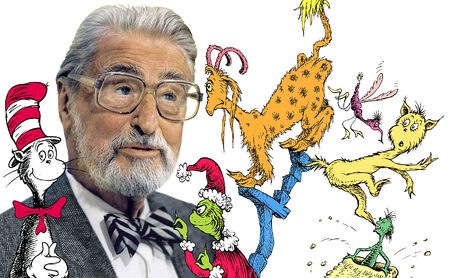 Summary
Dr. Seuss was born Theodor Geisel in Springfield, Massachusetts on March 2, 1904. After attending Dartmouth College and Oxford University, he began a career in advertising. His advertising cartoons, featuring Quick, Henry, the Flit! appeared in several leading American magazines. Dr. Seuss's first children's book, And To Think That I Saw It On Mulberry Street, hit the market in 1937, and the world of children's literature was changed forever! In 1957, Seuss's The Cat in the Hat became the prototype for one of Random House's bestselling series, Beginner Books. This popular series combined engaging stories with outrageous illustrations and playful sounds to teach basic reading skills. Brilliant, playful, and always respectful of children, Dr. Seuss charmed his way into the consciousness of four generations of youngsters and parents. In the process, he helped kids learn to read.Winner of the Pulitzer Prize in 1984 and three Academy Awards, Seuss was the author and illustrator of 44 children's books, some of which have been made into audio cassettes, animated television specials, and videos for children of all ages. Even after his death in 1991, Dr. Seuss continues to be the best-selling author of children's books in the world.
Note: Within versus threads, the original poster should specify which incarnation of the characters is being used.
Media of the Series
Books
Oh Say Can You Say?
One Fish Two Fish Red Fish Blue Fish
The Cat in the Hat Comes Back
The Foot Book
I Can Read with My Eyes Shut!
Hop on Pop
There's a Wocket in my Pocket!
Movies
How the Grinch Stole Christmas (2000)
The Lorax
The Cat in the Hat
Horton Hears a Who!
The Grinch (2018)
Cartoon
Power of the Verse
Dr. Seuss stories focus more in hax rather than destructive power (Many characters only being in tier 9 physically), some of the hax found in the verse include Toon Force, Size Manipulation, Telepathy, Dream Manipulation, Fear Manipulation, Pocket Reality Manipulation, Smoke Manipulation, Sound Manipulation, Darkness Manipulation, Light Manipulation, Duplication, Illusion Creation, Gravity Manipulation, Air Manipulation, Perception Manipulation and Reality Warping along other abilities. As well as hax many Dr. Seuss characters show Genius Intelligence, being able to create futuristic and strange technologies with ease.
Supporters/Opponents/Neutral
Supporters
Opponents
Neutral
Characters
The Grinch
The Cat In The Hat
The Lorax
Discussions
Community content is available under
CC-BY-SA
unless otherwise noted.