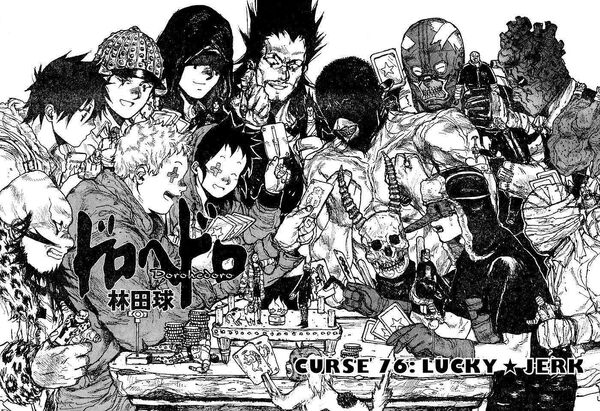 Summary
Dorohedoro (ドロヘドロ) is a Japanese manga series written and illustrated by Q Hayashida. It tells the story of the amnesiac reptilian-headed Caiman working together with his friend Nikaido to recover his memories and survive in a strange and violent world.
The series was formerly serialized in Shogakukan's seinen magazine Monthly Ikki since 2000, but after its cessation in 2014 the series was moved to Hibana in 2015. However, after the cessation of Hibana in August 2017, the series was transferred to Monthly Shōnen Sunday magazine in November 2017 and finished in September 2018.
The series has been licensed for English-language release by Viz Media in 2009 and began distributing the manga digitally when it launched SigIKKI, the former online English version of Ikki magazine.
An anime television series adaptation has been announced.
Power of the Verse
Dorohedoro is a reasonably powerful series with a wide range of character power levels, ranging up to Chidaruma and Death, who are at least low multiverse level character.
The Dorohedoro Verse is full of has abilities. Characters such as Shin have magic that allows for durability negation, others like Kirkurage have the ability to resurrect the dead. All devils have a form of immortality and Store's Kitchen Knife is a weapon that negates the durability of anything. Many characters have regenerative powers and Noi can heal even near fatal wounds. The Head of the En family, En, can turn anything into mushrooms.
Still other characters can negate or absorb attacks levied against them such as Hole-Kun and Kaimen. The Former being able to steal and use the magic of users and the later being able to negate magic and absorb it by the end of the series.
Supporters and Opponents of the Series
Supporters:
Professor Evelyn
Neutral:
Opponents:
Characters
En Family:
Crosseyes:
Kai
Natsuki
Dokuga
Risu/Curse
Aikawa
Artificial Devil Kai
From the Hole:
Kaimen
Ai
Nikaido
Kasukabe
Johnson
13
Hole-Kun
Devils:
Haru
Asu
GuruGuru
Store
Death
Factions
The En Family
Crosseye Gang
Hole Militia