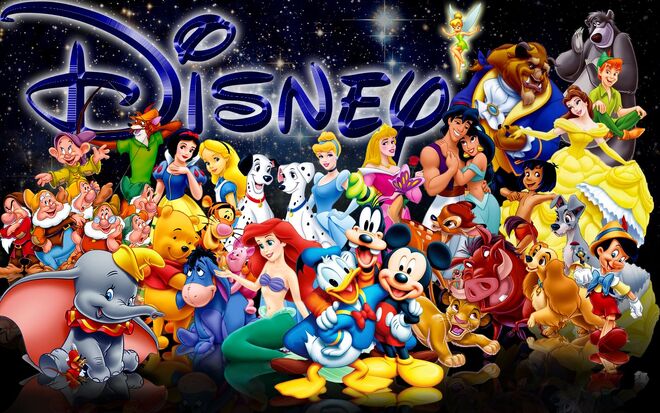 For detailed information about this series, visit The Disney Wiki.
Summary
The Walt Disney Company, commonly known as Disney, is an American diversified multinational mass media corporation headquartered at the Walt Disney Studios in Burbank, California. It is the largest media conglomerate in the world in terms of revenue. Disney was founded on October 16, 1923, by Walter Elias "Walt" Disney and Roy O. Disney as the Disney Brothers Cartoon Studio, and established itself as a leader in the American animation industry before diversifying into live-action film production, television, and theme parks.
The company also operated under the names Walt Disney Studio and Walt Disney Productions. Taking on its current name in 1986, it expanded its existing operations and also started divisions focused upon theater, radio, music, publishing, and online media. In addition, Disney has created new corporate divisions in order to market more mature content than is typically associated with its flagship family-oriented brands.
Power of the Verse
Incredibly strong, this verse has a wide variety of powers and abilities in the form of reality warpers, toonforce, a lot of magic users with a lot of hax, planet level threats and above, etcetera.
Supporters/Opponents/Neutral
Supporters
Opponents
Neutral
Characters
Mickey Mouse
Donald Duck
Bongo
Walt Disney Comics
Bambi
The Jungle Book
The Jungle Book (2016)
Tarzan
Peter Pan/Jake and the Neverland Pirates
The Hunchback of Notre Dame
Beauty and the Beast
The Lion King/Lion Guard
Aladdin
Sleeping Beauty
Maleficent (2014)
Hercules
The Emperor's New Groove
Bolt
Frozen
Pirates of the Caribbean
Mulan
Robin Hood
Tron
The Little Mermaid
Dave the Barbarian
Sofia the First/Elena of Avalor
Kim Possible
Kick Buttowski: Suburban Daredevil
Tangled
Big Hero 6
Moana
Meet the Robinsons
Sky High
American Dragon: Jake Long
Pucca
Wreck-It Ralph
Fantasia
Mary Poppins
Atlantis: The Lost Empire
A Christmas Carol
The Nightmare Before Christmas
The Sorcerer's Apprentice
Witches of Waverly Place
Kickin' It
Twitches
Home on the Range
Verses owned by Disney
Weapons
Discussions
Community content is available under
CC-BY-SA
unless otherwise noted.