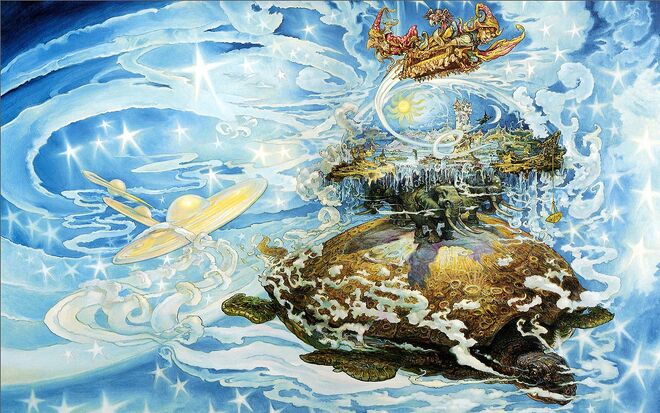 | | | |
| --- | --- | --- |
| " | HUMANS NEED FANTASY TO BE HUMAN. TO BE THE PLACE WHERE THE FALLING ANGEL MEETS THE RISING APE. | " |
Summary
Discworld is a comedy fantasy series by Terry Pratchett, consisting of 41 books, and a 4-book spinoff series. Many parts of the Discworld series parody our own society. The series is set entirely on a world on the back of four elephants which stand on the back of a giant Turtle called The Great A'tuin. Different books follow different parts of Discworld society (eg. the City Watch, the Unseen University, Death).
Power of the Verse
The power of Discworld is considerable. There are 3000 Gods living on Discworld, as well as countless fantasy species such as humans, dwarves, goblins and more. Death appears in every book but one, and even he is just a servant of a greater embodiment of death.
Supporters/Opponents/Neutral
Supporters
Opponents
Neutral
Cosmic Beings
Residents of Discworld
Weapons
Community content is available under
CC-BY-SA
unless otherwise noted.