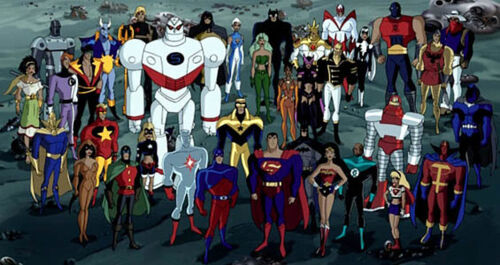 About
The DC Animated Universe (DCAU), often referred to as the Timmverse (in honour of Bruce Timm) by fans, is a cartoon universe based on DC Comics. It consists of original animated series revolving around individual DC superheroes such as the universally critically acclaimed Batman: The Animated Series and Superman: The animated series as well as works such as Justice League and Justice League Unlimited, which have a large cast of various DC superheroes and supervillains. The DCAU also introduced a new original Batman character named Terry McGinnis with an animated series revolving around him.
Note: While it is true that a Teen Titans series set in the DCAU was planned, it did not materialize in the end. The animated Teen Titans series which ran from 2003 to 2006 does not fall under the DCAU/Timmverse.
Power
While it is nowhere near as powerful as the original DC comics, the DCAU is still a decently powerful verse. The verse contains a nice collection of superhuman characters with a wide range of abilities and hax powers as well. The strongest superheroes and supervillains range from Small City level all the way up to Planet level. In terms of speed, they have a vast collection of characters boasting of Hypersonic+ to FTL combat speeds with characters such as the Green Lanterns and Amazo having Massively FTL+ travel speed. Then there is the mysterious Anti-Life Equation, which would allow the wielder to dominate the universe and essentially rewrite it in their own image.
The verse is quite powerful in terms of technology as well. The Superman animated series and Justice League animated series both introduced weaponry and robots capable of injuring and subduing characters with Small City level strength and durability in addition to spaceships and superweapons with Planet level destructive capacity. Batman Beyond and Justice League Unlimited introduced powered armor which grants the wearer up to Building level destructive capabilities and durability in addition to Supersonic flight speeds.
Supporters and Opponents
Supporters
Neutral
Opponents
Characters
Justice League members and allies
Hawkgirl
Villains
Others