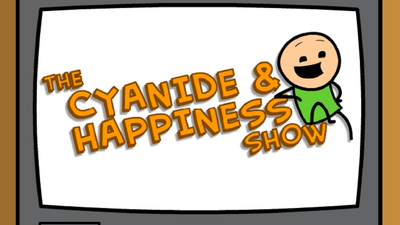 Summary 
Cyanide & Happiness (C&H), also known as Cyanide and Happiness, is a webcomic written and illustrated by Rob DenBleyker, Kris Wilson, Dave McElfatrick and formerly Matt Melvin,published on their website explosm.net. It was created on December 9, 2004, and started running daily on January 26, 2005. It has appeared on social networking sites such as Myspace, Quora, LiveJournal, and Facebook, where, in April 2006, it had generated more than a million visits per week. The comic's authors attribute its success to its often controversial nature, and the series is noted for its dark humor and sometimes surrealistic approach. Cyanide & Happiness characters were used in the television advertisements for Orange Mobile's Orange Wednesdays. They are also on the mobile app iFunny.
Power of Verse
The verse is a powerful if extremely varied one... With the focus being on jokes and zany reality breaking madness. Most characters are around Wall level or Higher in terms of power. The strongest characters, such as God, Half Off Oscar, or El Reverso being Multi Solar System to Universal in attack power. the verse has a large number of haxes, with even the weakest characters having a large assortment of abilities. Toon Force is a very common ability among the verse. Other haxes include guns that shoot Insta Growing Trees, Probability Manipulation, Reality Warping, BFR, Time Manipulation, Spatial Manipulation, Possession, and countless others...
Supporters and Opponents of the Series
Supporters:
Zacharygrossman273
RapidMotorcycle23
Opponents:
Sans2345
Neutral:
Characters
Super Heroes
Humans
Other:
Community content is available under
CC-BY-SA
unless otherwise noted.