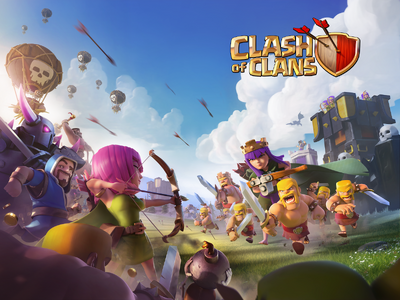 Summary
Clash of Clans is a free MMO strategy game (for iOS and android platforms) developed and published by Supercell. The entire game is about players creating their own base, join or create a clan, train troops, and attack other bases.
For more information, see the Clash of Clans Wiki.
Power of the verse
Although this verse isn't quite strong (Small Building/Building level), it has some hax in it.
Profiles
Tier 1
Tier 2
Giant
Wall Breaker
Balloon
Baby Dragon
Tier 3
Healer
Dragon
Miner
Electro Dragon
Dark Elixir Troops
Minion
Hog Rider
Valkyrie
Golem
Witch
Lava Hound
Bowler
Builder Base Troops
Raged Barbarian
Sneaky Archer
Boxer Giant
Beta Minion
Bomber
Builder Base
Baby Dragon
Cannon Cart
Night Witch
Drop Ship
Super P.E.K.K.A
Heroes
Archer Queen
Grand Warden
Battle Machine
Spells
Lightning Spell
Healing Spell
Rage Spell
Freeze Spell
Jump Spell
Clone Spell
Dark Spells
Poison Spell
Earthquake Spell
Haste Spell
Skeleton Spell
Unaffiliated