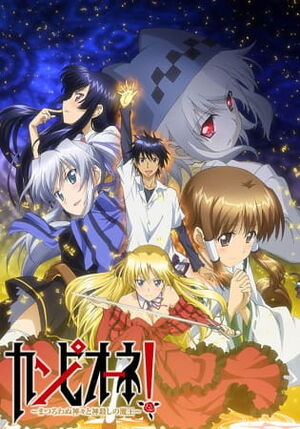 For detailed information about this series, visit the Campione! Wiki.
Summary
A Campione—a Godslayer—is a supreme ruler. Since he can kill a celestial being, he can therefore call on the sacrosanct, divine powers wielded by the gods.
A Campione—a Godslayer—is a lord. Since the power to kill a deity is in his hands, he therefore looms over all mortals on Earth.
A Campione—a Godslayer—is a devil. Since for all mortal who live in the world, none can assume a power to match his!
Kusanagi Godou is a 16 year old boy who played catcher and fourth hitter in senior league baseball until an injury put an end to it in junior high. As the spring break of his third and last year of junior high came around, he got involved in an adventure and ended up slaying one of the Heretic Gods, Verethragna. Thus, he became the youngest—and seventh—Campione. Now that he is a Campione, a godslayer, young Godou must defeat the troublemaking gods with the help of his followers!
The first entry in the series is called simply Campione! (カンピオーネ!), the next is called Shinki no Campioness (神域のカンピオーネス, "Campioness of Sanctuary"), and the most recent one is called Campione! Lord of Realms (カンピオーネ! ロード・オブ・レルムズ).
Power of the Verse
It's a relatively strong verse, as was to be expected from a series centered around a godslayer.
Supporters/Opponents/Neutral
Supporters
Opponents
Neutral
Characters
Kusanagi Gudou
Sasha Dejanstahl Voban
Salvatore Doni
Luo Hao
Alexandre Gascoigne
Discussions
Community content is available under
CC-BY-SA
unless otherwise noted.