Jurassic World: Dominion Dominates Fandom Wikis - The Loop
Play Sound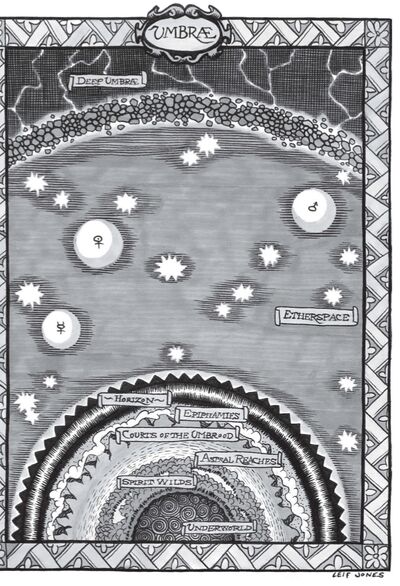 "

God. The All. Most High. Unreachable.

Bondye has existed since the beginning of everything, and They will be here long after everything else ends. They are an entity of immense space, and yet They contain no form.

They have no gender, sex, race, or nationality, existing outside human parameters. Bondye recognizes none of the markers that separate people, seeing only each person's true spirit.
Bondye is unreachable. Even the most powerful gods are not capable of speaking to Them directly. Long ago, this isolation made Bondye very lonely, unable to speak to anyone.

Bondye wished to fill the vastness of time and space with other things, and so Bondye separated themselves into three manifestations: Eledumare, Olorun, and Olofi. Eledumare is responsible for Creation, having made the universe and all the things inside of it, including the mortal concept of "time." Olorun, associated with the life-giving energy of the sun, is the ruler of the heavens and the holder of Ashe, the life force (that is, Quintessence) that runs through all things. Olofi is the ruler of the Earth, and he forms the conduit between the Earth and the heavens. Bondye is both the three manifestations of themselves, and also a single entity unto itself. Bondye knows no limitations, and They may be whatever They choose to be.

Bondye does not grant miracles or change fate, but rather is the vessel through which all things are possible. So long as Bondye exists, there's a chance for the existence of life, of luck, of fate, for trees to grow and waters to flow. To give praise to Bondye, then, is to give praise to all deities, and to show gratitude for the existence of life itself. It is up to the gods — and by extension, the Loa — to make sure that Bondye is being worshipped. Without Bondye everything would cease to be: humans, life, consciousness, everything.

"
~ Gods and Monsters – Page 157
Powers and Stats
Tier: High 1-A | 0
Name: Eledumare, Olorun and Olofi | Bondye, The All, The Most High, God, The Unreachable.
Origin: World of Darkness
Gender: Unknown, though Olofi in particular is referred to as Male. | Inapplicable. Said to be completely outside of human characteristics and parameters such as sex or gender.
Age: Irrelevant
Classification: Manifestations of Bondye, Makers and Rulers of all Creation, Haitian Gods | Supreme God, God-Form
Powers and Abilities:
Acausality (Type 5), Causality Manipulation, Conceptual Manipulation (Type 1. Olorun governs the Quintessence, which exists as a "perfected model of reality" believed to hold the essential Platonic Forms of all things[1], and to be the origin of all Patterns, which are themselves equated to such Forms), Cosmic Awareness, Creation, Darkness Manipulation, Data Manipulation, Disease Manipulation, Dream Manipulation, Elemental Manipulation, Fate Manipulation, Higher-Dimensional Manipulation, Incorporeality, Immortality (Types 5 and 9), Information Manipulation (Quintessence is described as the smallest and most fundamental unit of information[2], and as what allows objects to be instantiated within reality out of the raw possibilities of the Tellurian[3]), Law Manipulation, Life Manipulation, Light Manipulation, Mathematics Manipulation, Matter Manipulation, Mind Manipulation, Plot Manipulation (Patterns of Quintessence give rise to "mythic threads" and "hypernarratives," common images and media tropes that are deeply ingrained within the collective human unconscious to the point of affecting reality itself[4]), Power Modification, Power Nullification, Probability Manipulation, Quantum Manipulation, Reality Warping, Soul Manipulation, Spatial Manipulation, Subjective Reality, Time Manipulation, Void Manipulation
All previous powers and abilities to immensely greater extent, as well as Omnipresence
Attack Potency: High Outerverse level (Eledumare is responsible for the making of the Tellurian, a realm of raw, infinite potential which encompasses the Deep Umbra, a region of infinite nothingness that stretches beyond the Etherspace and the Epiphamies of Earth's Shard Realm, where all laws of reality and spacetime [Even metaphysical, purely conceptual forms of the latter] break down entirely and any form of structure present in the Tapestry ceases to exist. Olorun is the ruler and wielder of the Quintessence, the sea of infinite energy[5] that fuels the latticework of all Creation[6], existing as "the archetype of all things"[7] and a "perfected model of reality"[8] from which everything in the Tellurian originates, and to which it will eventually return[9], with even the element of Spirit, which comprises the whole of the Umbra[10], being simply a reduced form of it[11]) | Boundless (Bondye is the source and vessel through which all things are possible, and is considered to have no limitations or restrictions whatsoever, being unreachable and unable to be spoken to even by the most powerful of the Gods, and acting as the prime sustainer of all reality, without which every aspect of it would cease to exist)
Speed: Irrelevant | Omnipresent
Lifting Strength: Immeasurable
Striking Strength: High Outerversal | Boundless
Durability: High Outerverse level | Boundless
Stamina: Irrelevant.
Range: High Outerversal | Boundless.
Standard Equipment: None Notable for Eledumare and Olofi, though Olorun is said to wield the Quintessence itself.
Intelligence: Unknown, though likely Nigh-Omniscient | Omniscient
Weaknesses: None Notable.
Key: Manifested Trinity | True Self
Others
Notable Victories:
Notable Losses:
Inconclusive Matches:
References
Discussions