Kinch vs Kirito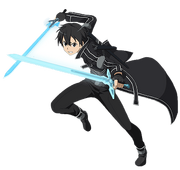 Story: Kirito in real life gets transported backwards in time to the era of WW2. There he finds Stalag 13, where Hogan's men find him and bring him in. Naturally, Hogan's gang aren't particularly trusting of the kid with Japan their enemy and his lack of awareness of what's going on. Kirito starts to explain what happened and Hogan to everyone's surprise believes him.
Lebeau: "Sir are you mad!?!?, he's from the future? Pffft there's no way!"
Kinch: "Sir this is obviously a trick"
Everyone murmurs
Hogan: "Ok ok. Listen, you must understand how we can find this all a bit bizarre but I saw you stumble around outside the camp. Regardless if you're from the future or not, you clearly aren't aware what's going on."
Hogan then tells Kirito about their operation and what's going on in the world.
Kirito: "That's terrible! Maybe I can help!"
Hogan: "Maybe you can, but if that's gonna be the case, we need to know if you can match our criteria. Kinch over their can give you a friendly boxing match to see how strong you are physically"
Kirito: "Ok then, lets fight"
Kinch: "Oh boy, here we go then"
So yeah, this is a match where the winner incapacitates the other.
Speed is =
Takes place inside Hogan's barracks and both only have their barehands
9-C versions obviously
Kinch: 7 (Ant, Cristian, Jack, Tony, Stalker, Crimson, Gyro)
Kirito: 0
Inconclusive: 0