Wiki Targeted (Entertainment)
Play Sound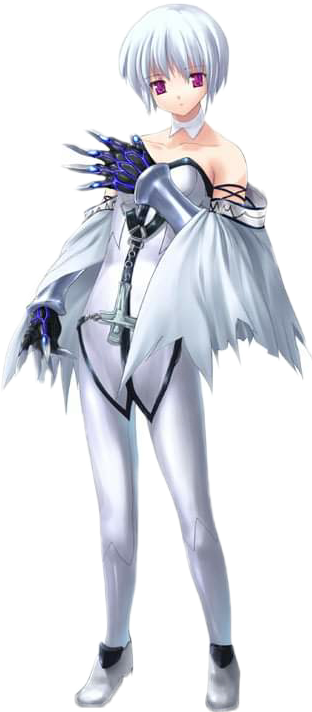 | | | |
| --- | --- | --- |
| " |  I've been thinking about it. Why does the Master praise you and Lot, the rebels, and not give me a second thought? This time, too, he made no attempt to condemn the arbitrary actions of Taslam and Altmarin. So why do I have to ......I'm not sure what to make of that. He didn't want pawns or puppets. | " |
| | ~ Astaroth questioning Lil on her purpose | |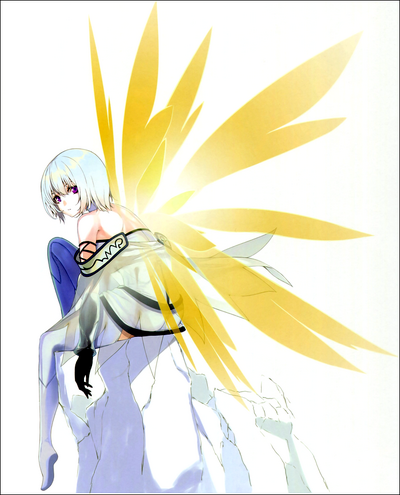 Summary
Astaroth, commonly referred to as Ast, is one of the main heroines of Shinza Bansho's Paradise Lost.
Ast is one of three biological weapons known as a Dust Angel alongside the King of Sin and the King of Crawling Insects created by Nerose Satanael, her title being known as Criminaltores and the Demonic Mirror.
A being who is treated more as a device than a weapon with no will and emotion, Ast was treated primarily as a "doll" of sorts to some characters like Know Christ, making her no different from the Angels Satanael created. After interacting with Know and replicating his memories during one moment, Ast later started to slowly gain feelings and emotions of her own, a heart in an angel with free will that Satanael has aimed for in his plan to reach the "true Zoar".
Powers and Stats
Tier: At least High 6-A, likely at least 5-A. 1-B with Sin
Name: Astaroth, "Ast", Criminaltores, Demonic Mirror
Origin: Paradise Lost
Gender: Female
Age: Over 3000 years old
Classification: Anti-Angel, Creation of Nerose Satanael
Powers and Abilities: Superhuman Physical Characteristics, Immortality (Type 1), Enhanced Senses (Can sense the adrenaline rate and heart beat of others), Higher Dimensional Manipulation and Energy Manipulation (All Angels and Anti-Angels manipulate Quintessence, a fifth DNA base embedded in them that allows them to draw upon energy from higher dimensions of the Sephirot and the Abyss formed from Muzan's Law), Mind Manipulation, Information Manipulation, Memory Manipulation and Power Mimicry (Can manipulate the mind of any living being and replicate their information and memories through direct contact or by merely seeing and hearing them), Chain Manipulation (Can create chains made of photons to completely bind her target with Sarial), Attack Reflection, Deconstruction and Flight (with Samyaza), Existence Erasure (Can generate white light that erases anything in its path with Azazel), Spatial Manipulation and Dimensional BFR (Can manifest a tornado around her that distorts space and sends anyone or anything caught in it to another dimension with Raphael), Energy Projection (Can shoot a torrent of Mana that swallows everything in its path to ruins with Michael), Forcefield Creation and Gravity Manipulation (Can shoot bullets of light that, upon hitting the target, creates a forcefield around them and crushes them with several thousand G's), Invulnerability (Can only be affected by Sin/Mana or an energy source similar in potency including hax such as Raphael's BFR which was noted to be useless against Belial due to Ast's sin not being on his level), Sense Manipulation and Summoning (Can summon meteor showers that target ones nerve areas with Gabriel), Purification and Transmutation (Can cleanse away Sin, higher dimensional energy from the Abyss which is a manifestation of Muzan's Law and can turn anyone or anything into a pillar of salt via Netsiv Melakh), Clairvoyance and Precognition (Can see into the past and future), Matter Manipulation and Space-Time Manipulation (Can create an elementary particule that exceeds space-time where it is sent to the past to erase someone or something), Resistance to Poison Manipulation, Spatial Manipulation and Corrosion Inducement (Unaffected by the miasma in the M District, which is so corrosive it can cause anyone to die within five minutes and even distort space itself), Higher-Dimensional Manipulation (Is unaffected by Mana-based attacks), Law Manipulation (Should be similar to the Angels and Anti-Angels, who become "not of this world" when connecting to the Sefirot or Abyss which renders the laws of the physical world useless to them)
Attack Potency: At least Multi-Continent level (Can contend with a fully possessed Belial. Can create a mini-star that generates power comparable to solar flares. Should be comparable to a fully possessed Beelzebub), likely at least Large Planet level (Masada stated that the characters in Paradise Lost are stronger than the Three Commanders from Dies Irae. This is specified to those of the Angels and Anti-Angels, of which Masada ranked them in the same place as Methuselah, the Yatsukahagi from Kajiri Kamui Kagura, and the Seven Demon Kings from Avesta in terms of power level). Hyperverse level with Sin (Ast is a sin bearer and has copied many abilities with it. She is able to use Netsiv Melakh which is the trump card to use against Belial) Many of her abilities ignore conventional durability
Speed: Massively Hypersonic+ (Can react to and deflect bullets. Left numerous sonic booms during her battle against Belial and Beelzebub, she is also stated to move at lightning speed) with Speed of Light Combat Speed and Reactions (Should be comparable to Belial)
Lifting Strength: Unknown
Striking Strength: At least Multi-Continent Class, likely at least Large Planet Class
Durability: At least Multi-Continent level, likely at least Large Planet level (Fought against Lyle who had Nacht in Control together with Judas who had Beelzebub in Control) Hyperversal level via Sin (Shares an existence similar to Belial and Beelzebub, whose connection to the Abyss cause them to be "not of this world" which makes them invulnerable to any attacks in the physical world and even those of similar higher dimensional nature like Mana, requiring Sin or any higher-dimensional source equal to the Abyss in order to harm them)
Stamina: Limitless
Range: Extended Melee Range with Baraqiel, higher with abilities
Standard Equipment: Baraqiel
Intelligence: Astaroth is a calm and calculated being, able to perfectly assess a given situation based on observation alone without even using her mind-controlling abilities by accurately predicting the probability of an event occurring such as when and where an attack on Satanael from assassins will happen as well as knowing when and where a group of people are by gauging their adrenaline rate and heartbeat and even know how many of them including what objects or weapons they might have on them. In combat, Astaroth's ability to utilize the various powers of the deceased Angels of Satanael's Army thanks to her ability to process large amounts of their information and power to revive their abilities grants her many options and ways in how to deal with any kind of enemy, from using more "weaker" abilities to deal with situations that don't require her more powerful attacks like Baraqiel and Samyaza to using the more powerful attacks of the Seraphs against enemies her usual attacks and abilities may not be sufficient enough.
Weaknesses: Despite her connection to Quintessence, she can still strain herself when continuously using her abilities (however, it should be noted that it is unknown to what degree can this hamper her).
Notable Attacks/Techniques:
Others
Notable Victories:
Notable Losses:
Inconclusive Matches: