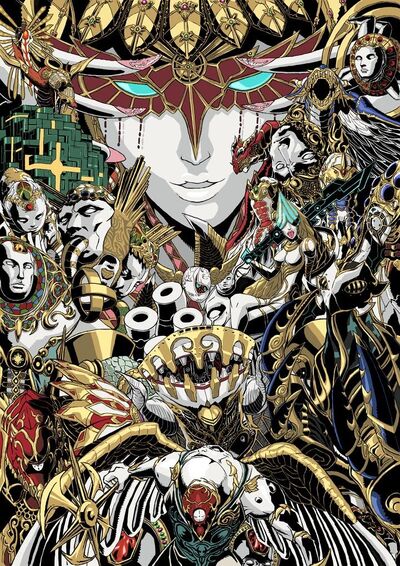 Summary
The Angels of Paradiso, in particular the Hierarchy of Laguna, make up the primary antagonistic force in the first Bayonetta. They appear to be closely affiliated with the Lumen Sages, battling alongside them during the Clan Wars and hundreds of years later are seen aiding the Masked Lumen Sage in combat against Bayonetta in Bayonetta 2.
All Angel seem to share certain characteristics: marble-like skin, gold and ivory armor, and frequently extravagant golden halos made of light. The extravagance of their halo is closely affiliated to their sphere of influence within Paradiso, with lower ranking Angels having rather simplistic halos and higher ranking angels such as the Auditio having multiple halos, each of which can be up to several hundred feet across. Angels that are often felt or seen by humanity, such as the Affinities appear humanoid and closely resemble modern depictions of Angels, while many others, such as the Enchants frequently appear to be much more exotic, resembling wheels. Even higher ranks appear as things that are not traditionally affiliated with angels, such as ships or cars. Other Angels, such as Fearless and Fairness appear to simply be angelic beasts.
Like humans, most Angels are physical beings that are able to exist in Paradiso or Purgatorio, being able to influence the human world from either. Some Angels, however, such as Joy, are said to have broken completely free of physical bonds. As a result, Joys are able to manipulate their physical body at will, allowing them to transform into a wide array of beings, and even mimic Bayonetta's weapons and attacks.
Despite the positive feelings that most Angels govern and exude, the Hierarchy of Laguna itself is single-minded and sinister. Acting as Father Balder's personal supernatural army, the three spheres of the Hierarchy blindly follow every order given to them by superior beings, such as the Auditio, even if this means harming innocent people or acting as mere fodder against powerful enemies. This makes it difficult to judge if they are not-sentient beings, deprived of free will or simply totally obedient; the lowest angelic ranks are born from the souls of self-sacrificed humans, thus hinting that the Hierarchy are tied to the human race in a way far more disturbing than mere devotion. The four Auditio are, contrarily, extremely intelligent and cunning; even if most angels manifest basic emotions like fear, the Cardinal Virtues are prone to express contempt and anger and also -if it's true that they cast down The Infinite One only for resenting his power- envy: all feelings that belie the status of such ancient spiritual beings.
Even if most humans perceive Angels as blurred light, the types of Angel seen in both games have physical bodies with evident biology, though the function of the biology is utterly alien when compared to earthly forms, Angels appear to have a similar dependence on internal organ structure. Massive trauma, vivisection, or beheading an angel can all lead to the Angel's destruction. To protect these inner-organs all Angels appear to have an exoskeletal structure made of gold and marble. Whether this protective layer is a biological part of them, or simply something similar to an ornate set of armor that lay over their internal body is unknown. Despite appearing as stone and metal, the skin is readily pliable, able to bend and stretch similar to skin, as the Angel moves. Many angels also appear to have human faces that are non-threatening and child-like in appearance. However beneath these beautiful and non-threatening appearances are monstrous features like gaping maws or slanted-pupil eyes. This disguise can be a strange quirk of the angels themselves or, since Sapientia said outright that human beings are cowardly and unreliable, it may just be a ruse to further give the impression of caring guardians of mankind.
Powers and Stats
Tier: Unknown | 7-B, likely 6-B | High 6-A
Name: The Angels of Paradiso, the Hierarchy of Laguna
Origin: Bayonetta
Age: Varies, some are several thousand years old, beings like Rodin and Jubileus are billions of years old
Classification: Angels
Powers and Abilities: Superhuman Physical Characteristics, Immortality (Type 1), Skilled in hand-to-hand combat, Light Manipulation, Portal Creation, Magic, Teleportation (Via Portals), Can walk on walls, Flight, Energy Projection, Fire Manipulation, Berserk Mode, Skilled with a variety of weapons such as Swords, Spears, Halberds, Flails, Hammers, Whips, Bows, Darts, Shields, and Weaponized Instruments, Can shapeshift into a drill or a sword, Forcefield Creation, Can make one fall deeply in love (Via Arrows), Electricity Manipulation, Memory Manipulation, Can ensnare enemies in a magic coil and steal magic, Can travel between Paradiso, Purgatorio, and the Human World at will, Can become invisible and intangible to anything that isn't in Purgatorio or Paradiso | All previous abilities plus Skilled with a variety of weapons such as Axes, Halberds, Maces, Tridents, and Rocket Launchers, Can spit slime to immobilize enemies, Magma Manipulation, Electricity Manipulation, Sound Manipulation, Ice Manipulation, Life Force Absorption, Can summon meteors, Resistance to lava | All previous abilities plus Air Manipulation, Can split into three separate entities or combine into an immensely more powerful version of Beloved, Extendable sword, Can summon a hail of explosive golden arrows, Can create walls of lasers, Shapeshifting, Skilled Marksman, Can mimic weapons and fighting styles of whoever theyre fighting, Regeneration (Mid, Joys can regenerate from being shot in the head), Non-Corporeal, Resistance to Time Slow/Time Stop
Attack Potency: Unknown | City level, likely Country level (Beloveds can casually slaughter groups of Third Sphere Angels such as Affinities with a single attack, Urbane is capable of reducing entire civilizations to ash with one swing of its arm) | Multi-Continent level (Resplendence is the Angelic equivalent of Insidious, Inspired are only slightly weaker than Resplendence, Braves are described as having the most physical strength of all normal angels, Valiance casually cleaved an Insidious in two with a single attack and is described as being capable of cutting through anything in Paradiso or Inferno, Valor is equal to and regularly fights alongside Valiance, Joy can transform into a near perfect copy of Bayonetta, Gracious & Glorious can destroy the world with a small fraction of their power, and Glamor is the most powerful normal Angel in the Hierarchy and is described as being the Angel closest to God)
Speed: Massively Hypersonic+ (All Angels should be able to keep up with Bayonetta)
Striking Strength: Unknown | City Class, likely Country Class | At least Multi-Continent Class
Durability: Unknown | City level, likely Country level | At least Multi-Continent level
Stamina: High
Range: Standard melee range to thousands of kilometers depending on the Angel
Standard Equipment: Varies depending on angel. Some don't wield weapons while others wield spears, swords, and other equipment.
Intelligence: Varies, most of the lower-ranking angels display very little intelligence, higher tiers are capable of efficiently commanding armies, and the Deas have thousands of years of experience
Weaknesses: Lower-tiers are weak and not very intelligent, most high-tiers have exploitable weaknesses or weak spots, Jubileus needs the Eyes of the World to be fully resurrected
Species:
The Hierarchy of Laguna, and much of Paradiso's apparent residents seems to be divided into four separate "spheres", or ranks. Each of these spheres has its own sub-ranks, with lower ranking spheres and lower sub-ranking within each sphere appearing much more commonly than the members of higher spheres. In general, many members of higher ranking spheres are much more powerful despite being fewer in number.
Third Sphere: The third sphere is the lowest ranking Sphere of Influence, with many of its members making up the Hierarchy's shock troops and most of its standing army in general. They are most numerous rank, but also generally the weakest.
Angels
Numerous and pitifully weak, even among the other Third Sphere Angels, members of this sub-rank are simply known as "Angels", with no further title or attributed importance, even in their name. Among the other members of Laguna they appear to be of expendable, with higher ranking Angels such as Beloved readily slaughtering them in droves if it would mean hitting the enemy. This rank includes:
Archangels
The stronger grunts of the Third Sphere Angels. Members of this sphere usually appear in pairs or threes, and are frequently supported by six or more Affinities or other members of the Angel sub-rank. Compared to most higher ranks they are still quite weak however, and higher ranking Angels don't seem to regard them with very much importance. In combat their larger size and greater range of attacks makes them more dangerous than the lower Angel rank, and though they are also much more durable, they can be taken out in very much the same way with very little trouble. This rank includes:
Principalities
The strongest of the Third Sphere Angels, with some of them even being comparable to Second Sphere ranked Angels, members of the Principality sub-rank are the highest ranking members of the Third Sphere and seem to serve as specialized shock-troops. This rank includes:

Second Sphere: Appearing more rarely, Second Sphere Angels are powerful and can be dangerous to even Umbra Witches. They commonly appear with support from many Third Sphere angels, such as Affinity, but can also appear in pair or threes. They are divided up into three sub-ranks.
Powers
Living up to their name, members of the Power sub-rank are hulking creatures that deal massive amounts of damage. Their attacks are wide-reaching and can cut a swath of destruction across the battlefield with ease. This rank includes:
Virtues
Extremely deadly, even in comparison to higher ranking angels, members of the Virtue sub-rank are fast, powerful, durable, and incredibly aggressive. This rank includes:
Dominions
The highest ranking members of the Second Sphere. Like Virtues, members of this sub-rank are deadly and brutally powerful, though they are also the least frequently encountered of the Second Sphere Angels. Their attacks are varied, have incredible range, and are extremely fast. In comparison to their Virtue counterparts they are similarly durable, but generally deal much more damage per hit. This rank includes:

First Sphere: The most powerful of the three Spheres of influence, they are fiercely powerful and durable, with some of them being able to mimic Bayonetta's style of fighting flawlessly. These beings serve as mini-bosses late into Bayonetta with some of them only appearing on harder difficulties.
Thrones
Members of the First Sphere. They are inhuman in appearance, and serve as mini-bosses. They are very rarely encountered in numbers greater than one at a time. This rank includes:
Cherubim
Specializing more in brutal strength and direct combat, members of the Cherubim rank are deadly combatants, so much so that even though they rarely appear along side other types of Angels. This rank includes:
Seraphim
The members of the Seraphim rank are some of the most dangerous enemies in the game and the highest ranking angels of the First Sphere. This rank includes:
Key: Third Sphere | Second Sphere | First Sphere
Others
Notable Victories:
Notable Losses:
Inconclusive Matches:
Community content is available under
CC-BY-SA
unless otherwise noted.