Jurassic World: Dominion Dominates Fandom Wikis - The Loop
Play Sound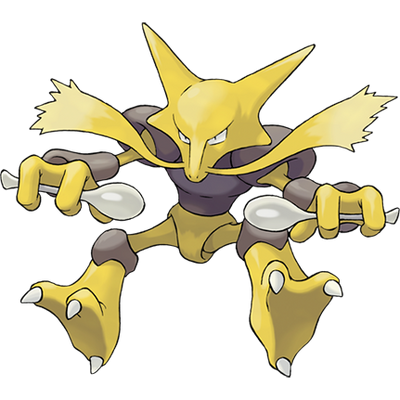 | | | |
| --- | --- | --- |
| " | It has an IQ of 5000. It calculates many things in order to gain the edge in every battle. | " |
| | ~ Alakazam's Pokédex entry | |
Summary
Alakazam
is a Psychic-type Pokémon introduced in Generation I. It evolves from Kadabra when traded. It is the final form of Abra. Alakazam can Mega Evolve into Mega Alakazam using the Alakazite. Alakazam is able to use all forms of psychic abilities. The overflow of its psychic powers can cause headaches to those nearby. These powers are used to move its body, as opposed to its weak muscles. It also uses its psychic powers to hold up its head, which is too heavy to be supported by its neck. Due to its continually growing brain, its head becomes larger with age. It is said to have an excellent memory and can remember everything that it has experienced since hatching as an Abra, to the time of its death, and has an IQ that exceeds 5,000.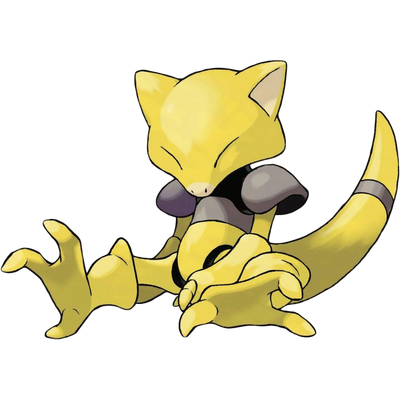 | | | |
| --- | --- | --- |
| " | Sleeps 18 hours a day. If it senses danger, it will teleport itself to safety even as it sleeps. | " |
| | ~ Abra's Pokédex entry | |
Summary
Abra
is a Psychic-type Pokémon introduced in Generation I. It evolves into Kadabra starting at level 16, which evolves into Alakazam when traded. Abra can sense danger through a telepathic radar. When it does, it teleports to a safe location. However, it sometimes becomes panicked if it wakes in an unknown location. By hypnotizing itself, Abra is able to teleport itself even while sleeping. It can use other extrasensory abilities while sleeping as well and can even teleport into the treetops to pick and eat berries. The deeper Abra sleeps, the farther it teleports. Due to the strain of its telepathic powers, however, Abra sleeps 18 hours each day. If it fails to rest long enough, it will become unable to use its powers. The contents in Abra's dream can affect its powers. Abra lives in urban areas, but has been observed to teleport to a different location once per hour. If it teleports randomly, it can create illusory copies.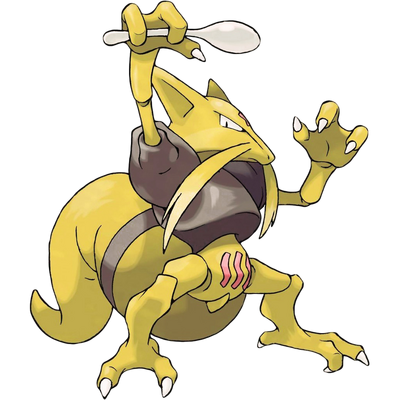 | | | |
| --- | --- | --- |
| " | It emits special alpha waves from its body that induce headaches just by being close by. | " |
| | ~ Kadabra's Pokédex entry | |
Summary
Kadabra
is a Psychic-type Pokémon introduced in Generation I. It evolves from Abra starting at level 16 and evolves into Alakazam when traded. Kadabra is always seen carrying a silver spoon, which amplifies its telekinetic powers. A gold spoon does not work as an amplifier and Kadabra is only half as strong without a spoon. It is able to bend its spoon to use Kinesis, its signature move. Kadabra emits alpha waves strong enough to induce headaches, and can even cause clocks to run backwards, machines to malfunction, and delicate devices to cease functioning altogether. The waves increase further in strength the more danger Kadabra faces. By closing its eyes, it can double the number of alpha particles it emits. When it has a headache, the alpha waves become unusual. All of Kadabra's brain cells work in unison while it uses its powers. It sleeps while levitating, using its springy tail like a pillow. It can store up psychic energy inside its star in preparation for its evolution. There is a theory that Kadabra was born from a transformed human child who could not control his powers.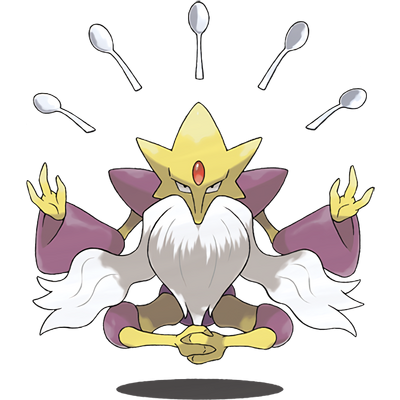 | | | |
| --- | --- | --- |
| " | As a result of Mega Evolution, its power has been entirely converted into psychic energy, and it has lost all strength in its muscles. | " |
| | ~ Pokémon Sun | |
| | | |
| --- | --- | --- |
| " | Its hidden psychic power has been unleashed. A glance at someone gives it knowledge of the course of that person's life, from birth to death. | " |
| | ~ Pokémon Moon | |
| | | |
| --- | --- | --- |
| " | It sends out psychic power from the red organ on its forehead to foresee its opponents' every move. | " |
| | ~ Pokémon Ultra Sun | |
| | | |
| --- | --- | --- |
| " | Having traded away its muscles, Alakazam's true power has been unleashed. With its psychic powers, it can foresee all things. | " |
| | ~ Pokémon Ultra Moon | |
| | | |
| --- | --- | --- |
| " | It's adept at precognition. When attacks completely miss Alakazam, that's because it's seeing the future. | " |
| | ~ Let's Go Pikachu and Eevee | |
Powers and Stats
Tier: At most Low 7-B | 7-B | High 7-A | 6-C
Name: Abra, The Psi Pokémon | Kadabra, The Psi Pokémon | Alakazam, The Psi Pokémon | Mega Alakazam, The Psi Pokémon
Origin: Pokémon
Gender: Can be Male or Female (Mostly Male)
Age: Varies
Classification: Psychic-type Pokémon, Basic Pokémon | Psychic-type Pokémon, First Stage Pokémon | Psychic-type Pokémon, Second Stage Pokémon | Psychic-type Pokémon, Mega-Evolved Pokémon
Powers and Abilities:
Superhuman Physical Characteristics, Natural Weaponry (Claws), Telepathy (Able to read minds and possesses a telepathic radar that detects the minds of everything around it), Telekinesis, Teleportation, Levitation, Instinctive Reaction (Able to use its powers on instinct even while asleep, further enhanced with Foresight), Extrasensory Perception, Enhanced Senses (Able to sense enemies and incoming attacks while asleep), Illusion Creation (Able to create illusory copies of itself), Forcefield Creation (Has numerous moves that create barriers and forcefields), Sound Manipulation (Able to create soundproof barriers), Status Effect Inducement (Via Synchronize, Psycho Shift, Fire Punch, Ice Punch, Thunder Punch, and Confuse Ray), Power Nullification (Via Magic Guard and Foresight), Resistance Negation (Via Foresight), Regeneration (Mid-Low), Self-Healing (Via Life Force and Self-Curer), Limited Accelerated Development (Via Exp. Elite), Limited Probability Manipulation (Via Type-Advantage Master and Sharpshooter), Fire Manipulation (Via Fire Punch), Ice Manipulation (Via Ice Punch), Electricity Manipulation (Via Thunder Punch and Charge Beam), Paralysis Inducement (Via Thunder Punch), Statistics Reduction/Statistics Amplification (Via Guard Split, Guard Swap, and Power Trick), Empowerment (Via Psychic Terrain), Power Modification (Via Skill Swap), Attack Reflection (Via Magic Coat), Energy Projection (Via Signal Beam and Psyshock), Darkness Manipulation (Via Shadow Ball), Non-Physical Interaction (Via Foresight), Light Manipulation (Via Confuse Ray), Mind Manipulation (Via Confuse Ray), Dynamax, Resistance to Fighting-type and Psychic-type moves (includes Mind Manipulation and Telepathy, Energy Manipulation, Telekinesis), and Sleep Manipulation
All previous abilities plus Radiation Manipulation (Passively emits powerful alpha waves and alpha particles), Technology Manipulation (Kadabra's presence causes machines around it to malfunction), Reactive Power Level (The more danger Kadabra is in the stronger its psychic power becomes), Limited Pain Manipulation (It emits special alpha waves from its body that induce headaches just by being close by), Energy Manipulation, Precognition, Time Manipulation (Future Sight allows the user to observe and attack the target in the future, bypassing Force fields and Precognition in the process), Ectoplasm Manipulation (Via Night Shade), Illusion Creation (Via Night Shade), Limited Soul Manipulation (Via Night Shade), Power Modification (Via Role Play), Statistics Reduction (Via Kinesis and Psychic), Mind Manipulation (Via Confusion and Psybeam), Power Nullification (Via Disable and Future Sight), Energy Projection (Via Psybeam and Psycho Cut), Resistance Negation (Via Miracle Eye), Self-Healing (Via Recover), Duplication (Via Substitute), Light Manipulation (Via Flash)
Attack Potency: At most Small City level (Comparable to Pokémon like Horsea). | City level (Comparable to other Mid-Stage Pokémon such as Charmeleon) | Large Mountain level+ (Comparable to final stage Pokemon such as Tyranitar. Completely unfazed by Defog) | Island level (Mega Evolution gives Alakazam a massive boost. Stronger than Pure/Huge Power Pokémon and Marowak holding a Thick Club, should be comparable to other mega evolved Pokémon such as Mega Charizard)
Speed: Massively Hypersonic+ (Can dodge attacks from Pokémon such as Magnemite) | Massively Hypersonic+ (Can react to other Pokémon of this caliber, such as Charmeleon, and is faster than before) | FTL (Comparable to other Fully-Evolved Pokémon, such as Poliwrath) | FTL (Much faster than before)
Lifting Strength: Unknown physically, Class K via telekinesis | Unknown physically, Class K via telekinesis | Unknown physically, Class G via telekinesis (Should be superior to Slowking and Meowstic) | Below Average Human physically (gave up all of it's physical strength), At least Class G via telekinesis
Striking Strength: Below Average (Alakazam's muscles are so weak that it can't support its own body weight without using its psychic powers)
Durability: Wall level normally. At most Small City level with psychic powers that are always active | Building level normally. City level with psychic powers that are always active | At most Small City level normally (Should be at least comparable to Pidgey). Large Mountain level+ with psychic powers that are always active (Which aren't bypassed by Feint and the like) | Unknown normally (All of its physical strength was turned into psychic power). Island level with psychic powers that are always active (Which are not bypassed by Feint and the like)
Stamina: Superhuman (The average pokemon is hardwired for battle and can go on fighting for lots of time despite being injured. Capable of spending a day on foot while fighting hordes of enemies in mystery dungeons with little to no breaks)
Range: Standard melee range to hundreds of meters, Hundreds of kilometers with Teleportation | Standard melee range to hundreds of meters, Hundreds of kilometers with Teleportation | Standard melee range to tens of kilometers with most attacks, Hundreds of kilometers with Teleportation | Standard melee range to tens of kilometers with most attacks, Hundreds of kilometers with Teleportation
Standard Equipment: Twisted Spoon (Boosts the power of Psychic-type attacks by 20%) | Alakazite
Intelligence: Extraordinary Genius. Alakazam is extremely intelligent, smart enough to outperform a supercomputer and perform complex calculations to gain an edge in battles. It is said to have an IQ of 5,000, and never forgets what it learns
Weaknesses: Dark-type, Ghost-type, and Bug-type moves
Notable Attacks/Techniques:
Key: Abra | Kadabra | Alakazam | Mega Alakazam
Gallery
Others
Notable Victories:
Espeon (Pokémon) Espeon's Profile (This was base Alakazam)
The Spirit (Care Bears) The Spirit's Profile (This was base Alakazam, Speed Equalized)
Itachi Uchiha (Naruto) Itachi's Profile (This was base Alakazam, against Edo Tensei Itachi, with equalized speed)
Dingodile (Crash Bandicoot (Verse)) Dingodile's Profile (Both were 7-B, and speed was equalized)
Notable Losses:
Xatu (Pokémon) Xatu's Profile (Xatu was used for this battle)
Inconclusive Matches:
Discussions