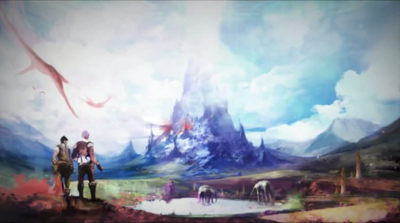 Aion is an MMORPG that takes place in the world of Atreia. There are 2 playable factions (Elyos and Asmodian), and currently 11 different classes.
Summary
Aion, the creator of Atreia, once created the planet and gave Aether to the world. He created the Humans and Drakan, with the Drakan intended to be the rulers, and to protect Atreia and the Humans. He created the Tower of Eternity to house his Aether, which was the essence of life distributed all over the world. The tower is the literal pillar located at the center of the planet. Life inside of Atreia was peaceful.
This peace would eventually be disturbed, as the Drakan demanded to receive god-like powers from Aion, who refused. Fregion, one of the Drakan, gained immense power, ascending and became the ruler of his race. Abandoning Aion, and the name given to his race, Fregion created the Balaur empire and became the faction's Arch Dragon Lord before declaring war against the rest of the planet.
Aion answered the Balaur's call for war by selecting 12 humans to become the Empyrean Lords, and granted them incredible power, and ascended the most faithful of the humans to become Daeva, immortal beings. This marked the start of the Millennium war.
With the war seemingly endless, a majority of the Empyrean lords, including Siel and Israphel, decided to aim for peace. After inviting the Balaur into the Tower of Eternity to discuss the terms, someone attempted to assassinate Beritra, one of Fregion's fellow Dragon Lords. In response, a fight broke out over the negotiation table, which resulted in the destruction of the Tower of Eternity, which led to the Cataclysm, splitting the world in two.
In order to prevent the entire destruction of the planet, Siel and Israphel used their powers to stop the world from being destroyed, costing Siel, and presumably Israphel's lives, which left the world appearing as two split hemispheres. With this, the eventual creation of the Elyos and Asmodians was inevitable. And so too would be their bitter rivalry and the continued war against the Balaur.
Characters
Empyrean Lords
Ariel, Lady of Light
Kaisinel, Lord of Illusion
Nezekan, Lord of Justice
Vaizel, Lord of Freedom
Yustiel, Lady of Life
Azphel, Lord of Shadow
Lumiel, Lady of Wisdom
Marchutan, Lord of Fate
Triniel, Lady of Death
Zikel, Lord of Destruction
Israphel, Lord of Space
Siel, Lady of Time
Dragon Lords
Fregion, Dragon Lord of Fire
Meslamtaeda
Ereshkigal, Dragon Lord of Ice
Beritra, Dragon Lord of Darkness
Apsu
Tiamat, Dragon Lord of Earth
Other Balaur
Anuhart
Sepians (Humans)
Player: Warrior, Mage, Priest, Scout, Muse, Technist
Kahrun
Reian
Bollvig, Archon of Storm
Agents of Empyrean Lords
Mastarius
Other
Artifacts
Hellfire
Weapons
Dredgion
Community content is available under
CC-BY-SA
unless otherwise noted.