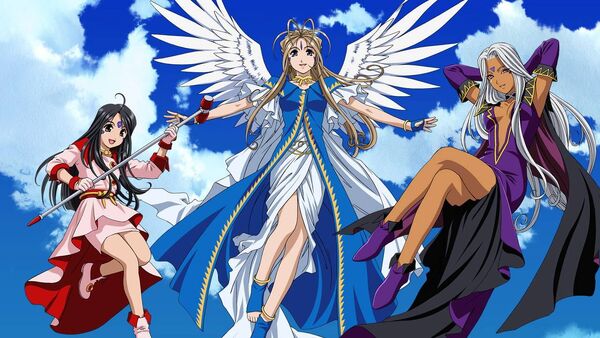 For detailed information about this series, visit the Oh My Goddess Wiki.
Summary
Keiichi Morisato is a college sophomore who accidentally calls the Goddess Help Line and the goddess Belldandy materializes. She tells him that her agency has received a system request from him and has been sent to grant him a single wish. Believing that a practical joke is being played on him, he wishes that she will stay with him forever, and his wish is granted.
Unable to live with Belldandy in his male-only dorms, they are forced to look for alternative housing, eventually seeking shelter in an old Buddhist temple. They are allowed to stay there indefinitely after the young monk living there leaves on a pilgrimage to India upon being impressed by Belldandy's intrinsic goodness. Keiichi's life with Belldandy becomes even more hectic when her elder sister Urd and her younger sister Skuld move in as well. A series of adventures ensue as his relationship with Belldandy develops.
Supporters/Opponents/Neutral
Supporters
Opponents
Neutral
Characters
Community content is available under
CC-BY-SA
unless otherwise noted.