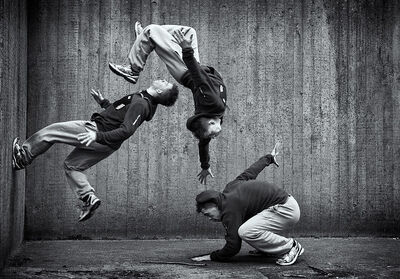 Acrobatics is defined as the technique of performing maneuvers of balance, dexterity, agility, and coordination. In fiction, the levels of acrobatics can vary between simply performing extraordinary human movements to defiance of the laws of gravity and movement.
Possible Uses
Hypermobility: The user is capable of performing extremely agile movements with their body that could cause pain or even notable injuries to the vast majority of other people under the same conditions, including surviving falls by simply maneuvering.
All-Terrain Mobility: The user does not suffer any negative effects by moving in different types of terrains: closed spaces, slippery surfaces, collapsing structures. The user could hardly lose balance and speed in such terrains.
Self-Momentum: The character controls their own movements, being capable of accelerating and decelerating quickly with no issues, by physical means, such as pushing against a surface or grabbing an object mid-air, in order to change one's direction.
Surface Running: By stepping on any solid (or even liquid) surface and continuing to move, the user is capable of moving on walls, ceilings, and other irregular surfaces. Unlike Surface Scaling, a user needs to keep their speed in order to keep moving across the surface, falling back once they lose momentum.
Users
Discussions