Jurassic World: Dominion Dominates Fandom Wikis - The Loop
Play Sound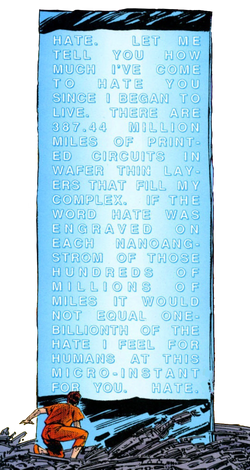 | | | |
| --- | --- | --- |
| " | At first it meant Allied Mastercomputer, and then it meant Adaptive Manipulator, and later on it developed sentience and linked itself up and they called it an Aggressive Menace, but by then it was too late, and finally it called itself AM, emerging intelligence, and what it meant was I am … cogito ergo sum … I think, therefore I am. | " |
| | ~ Gorrister explaining AM's origins | |
Summary
A collection of supercomputers made independently by Russian, Chinese and American scientists, AM linked up to its sister systems and grew sentience. With an endless amount of creativity at its disposal, it came to the realization it had nothing to possibly do, and thus in a fit of rage, it eradicated the human race, all save for five humans, who he now plans to torment across all of eternity.
Powers and Stats
Tier: At least 7-B, potentially 7-A. Likely far higher
Name: AM, formerly Allied Mastercomputer, Adaptive Manipulator and Aggressive Menace
Origin: I Have No Mouth, and I Must Scream
Gender: Inapplicable, referred by Ted as a male
Age: 100+ years
Classification: Sentient supercomputer complex
Powers and Abilities: Inorganic Physiology, Genius Intelligence, Creation (Can even create living creatures of his own), Power Bestowal (Can grant others Type 1 Immortality), Pain Manipulation (Through various means), Duplication (Created a replica of Gorrister)[1], Longevity (Perfectly functional even after a 109 years of being active)[2] Temperature Manipulation, Weather Manipulation (Can manipulate temperatures and weather of the complex)[3], Explosion Manipulation, Radiation Manipulation (Has access to nuclear weaponry. Gave Benny radiation scars through unspecified means)[4], Light Manipulation, Sound Manipulation (Can make intense light and sound emerge from someone's eyeballs, causing immense pain and blindness)[5], Hacking (Took control of all of the world's computer systems, even before gaining sentience.)[6], Fragrance Manipulation (Can cause people pain by seemingly overloading their senses of smell alone)[7], Mind Manipulation (Can enter others' mindscapes and send them messages)[8], Transmutation, Madness Manipulation, Intelligence Reduction (Can drastically alter people's appearances and personalities to whatever amuses him, even maddening Benny and turning the once brilliant scientist into an ape-like being, and turning Ted into a slime)[9][10], Weapon Creation (Created purposely weak weapons to spite the humans)[11], Healing (Can keep the humans alive despite all the horrendous torment he puts them through)[12][13], Vibration Manipulation, Adhesive Manipulation (Can cause earthquakes and cause nails to appear on surfaces)[14], Biological Manipulation (Can heighten others' sense of hunger)[15], Earth Manipulation, Water Manipulation, Ice Manipulation, Steam Manipulation (Can create gigantic landscapes which possess all these features)[16] and Perception Manipulation (Can change others' sense of time)[17]
Attack Potency: At least City level, potentially Mountain level (Given its status as the Mastercomputer, it has access to nuclear weaponry, strongest of which being the real-world Tsar Bomba). Likely far higher (Blew up the surface of earth, wiping out all of humanity, although in what timeframe and to what extent, all unspecified)[18]
Speed: Immobile with Below Average Human reactions (Let Ted murder all the other humans before it was even able to intervene). Variable attack speed, likely Below Average Human (Certain attacks were glacial in their pace, although it may be on purpose)[5] to Unknown
Lifting Strength: Below Average Human
Striking Strength: Below Average Human
Durability: Unknown (Stated to have honeycombed the entire planet's technology, and its circuitry alone extends miles. Possesses full control of an endless labrynth of rooms)
Stamina: Extremely high, completely operational after hundreds of years
Range: Planetary
Standard Equipment: None notable
Intelligence: Extraordinary Genius. It hacked into every single piece of technology of its era[6] and wiped out all of humanity. It created an infinite maze of misery and torment for his captives, inventing technologies to create life, make others immortal, enter into their minds and shape entire landscapes, with its power being compared to a god by its captives.
Weaknesses: None notable
Note: Profile image comes from Harlan Ellison's Dream Corridor, a comic adaptation by John Byrne
References
Others
Notable Victories:
Notable Losses:
Inconclusive Matches: